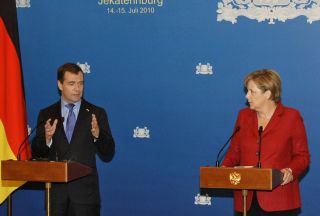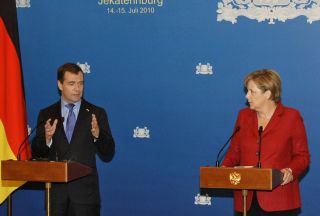 In an apparent change of rhetoric on Iran, the Russian president demands explanations from Tehran about the "military components" of its nuclear program.
"I would like to say that Iran is our rather active trading partner and has been tested by time, but that does not mean we are indifferent to the way Iran is developing its nuclear program and we are not indifferent to how the military components of the corresponding program look," Dmitry Medvedev said on Thursday.
"In this respect, we are waiting for the appropriate explanations from Iran," he said at a news conference with German Chancellor Angela Merkel in the Urals city of Yekaterinburg.
The remarks follow Medvedev's guarded statement on Monday in which he claimed Iran was "nearing the possession of the potential which in principle could be used for the creation of a nuclear weapon."
Iran dismissed the remarks as "false," saying it would not abandon its right to peaceful nuclear technology as a member of the International Atomic Energy Agency and a signatory to the Nuclear Non-Proliferation Treaty (NPT).
In June, Russia supported a US-proposed UN resolution for imposing tougher sanctions against Iran over its nuclear program.
Medvedev further said, "Iran should find the courage to start full cooperation with the international community, even if it does not like some of the questions that are posed."
Iran's nuclear program has been under close inspection of the IAEA, which has, in its reports, verified the non-diversion of nuclear material in the country.
The new UN sanctions came less than a month after Iran agreed with the West's demand to swap its low-enriched uranium on Turkish soil with nuclear fuel.
Despite the change in rhetoric, Russia continues to pursue economic cooperation with Iran. Tehran and Moscow on Wednesday signed a road map aimed at outlining future energy cooperation between the two longtime trade partners.