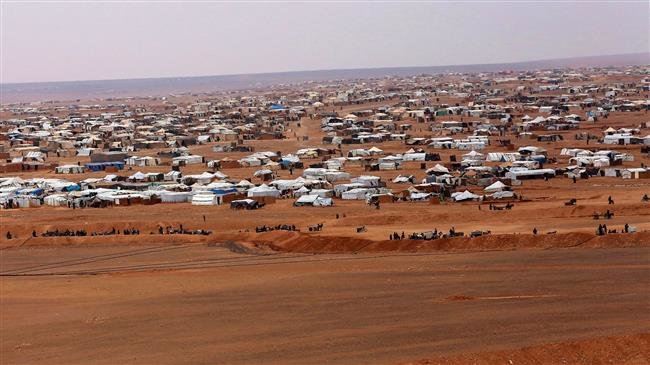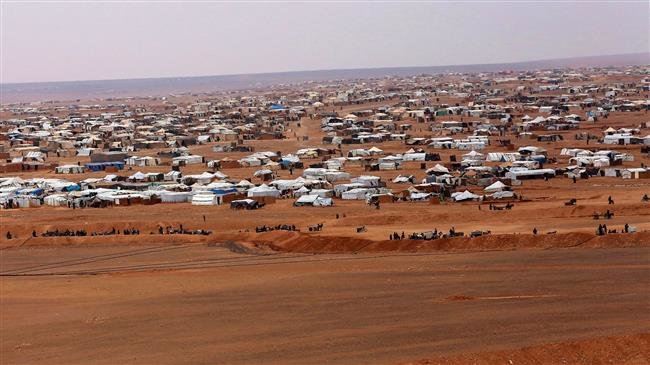 The US military has accused Russia of blocking "critical aid" to a camp near a US military base in Syria's al-Tanf, which Russia and Syria say is home to Takfiri terrorists.
US Navy Capt. Bill Urban, a spokesman for US Central Command, told CNN in a statement that Russia had refused to support a "UN delivery of humanitarian assistance" to the Rukban "internally displaced persons" camp.
The Rukban camp, according to Syrian and Russian officials, is home to terrorists, including members of al-Qaeda-affiliated Jabhat Fateh al-Sham terror group, formerly known as al-Nusra Front.
The camp sits within the 20-square-mile de-confliction zone that surrounds the US base in al-Tanf, near Syria's borders with Iraq and Jordan.
On Wednesday, Russia's Ministry of Defense accused the US of intentionally blocking aid from reaching the inhabitants of Rukban in a bid to attract recruits to the Maghawir al-Thawra, or the MaT, a local group of militants being trained by the US.
Back in September, the US sent more than 100 Marines to Syria as reinforcements to protect its al-Tanf base after repeated Russian warnings of an impending attack on militants in the area south of the terror-ravaged country.
US military is deploying troop reinforcements to its Syria base in anticipation of a Russian attack.
The base is being used by US Special Forces to train anti-Syria terrorists allied with the US. American military officials in September "bluntly warned Russia and Syria not to go forward with an attack within a 35-mile-wide security zone that the US maintains around Tanf."
A recent media report revealed that a large cache of US-made weapons, specifically shells and ammunition, had been dispatched to the al-Tanf border crossing.
US, Turkey start joint patrol in northern Syria
On Thursday, Turkish and US troops began jointly patrolling areas around the northern Syrian town of Manbij, part of a roadmap for easing tensions between the two NATO allies, Turkey's Defense Minister Hulusi Akar said.
Sharfan Darwish, spokesman of the Manbij Military Council, told the Associated Press earlier that the patrols had started and were taking place on the front lines between his group and those of Turkey-backed militants in the operation called Euphrates Shield.
Ankara and Washington agreed on a roadmap in June amid Turkish demands for the withdrawal of US-backed Kurdish militants.
The joint patrols were started shortly after the US slammed Turkey's shelling of US-backed Kurdish fighters in an area of northern Syria where American forces are embedded.
Deputy State Department spokesman Robert Palladino on Wednesday expressed great concern over the Turkish attacks, saying "unilateral military strikes into northwest Syria by any party, particularly as American personnel may be present or in the vicinity, are of great concern to us."
The Syrian government has repeatedly called any foreign military presence in the country "illegal", stressing that the American, French, Turkish, and Israeli troops operating in Syria are "occupying forces".
Syria has been gripped by foreign-backed militancy since March 2011. The Syrian government says the Israeli regime and its Western and regional allies are aiding Takfiri terrorist groups who are wreaking havoc in the country.