China
Russia, China sign multiple deals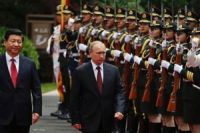 Russian President Vladimir Putin and his Chinese counterpart Xi Jinping have signed multiple cooperation agreements in Shanghai. According to AFP, the two leaders signed 49 deals in the fields of energy, transport and infrastructure. They have yet to agree on a landmark multi-billion dollar natural gas deal.
Meanwhile, Europe is seeking to cut its reliance on Russian oil and gas. In response, Putin is hoping to extend his country's dealings with Asia and diversify markets for Russia's gas.
President Putin's office said in a statement that the visit by Russia president marked a "new stage of comprehensive partnership and strategic cooperation" between the two countries.
The US and the EU accuse Russia of destabilizing Ukraine. They have slapped a number of sanctions against Russian and pro-Russia figures.
Russia, however, rejects the accusation, saying the pro-Russia protests in Ukraine began spontaneously against the new government in Kiev.
The Russian president and his Chinese counterpart will also oversee the start of joint naval exercises off Shanghai in the East China Sea.
Chinese government has recently accused the United States of emboldening Asian nations in their territorial disputes with Beijing.