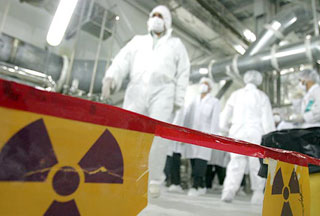 Russia and China have called for a diplomatic solution to the impasse over Iran's nuclear energy program amid Western threats of more sanctions against Tehran.
Russia's Deputy Foreign Minister Alexey Borodavkin says his country is taking part in international efforts to find a political solution to the issue.
"Russia actively takes part in international efforts on the Iranian nuclear program within the framework of IAEA, the P5+1 and the security council," he said.
Borodavkin says Moscow hopes a compromise can be reached between Iran, the International Atomic Energy Agency (IAEA) and the international community.
"We consistently stand for a diplomat settlement to all problems related to Iran's nuclear program," the Russian official said.
China, however, said that all parties involved in Iran's nuclear issue should enhance diplomatic efforts and stick to the path of negotiations.
"All parties should enhance diplomatic efforts and adhere to the right track of negotiations," foreign ministry spokeswoman Jiang Yu told reporters.
Beijing and Moscow have long been opposed to sanctions against Iran.
The US says it will seek new sanctions against Tehran if it fails to accept a proposal which was first floated by the Obama administration and later backed by the UN nuclear watchdog.
The proposal required Iran to send most of its domestically-enriched low-grade uranium out of the country for further refinement of up to 20 percent.
Despite having accepted the gist of the proposal, Iran refused to officially accept the proposed deal, as its concerns about the other side's commitment to its obligations were not addressed.
Tehran says it needs nuclear power to produce electricity for its growing population.