World News
Russia open to return of occupied lands in Karabakh to Azerbaijan: Putin
Russian President Vladimir Putin says Moscow is open to the return of the occupied lands of the south Caucasus region of Nagorna-Karabakh to Baku, in an effort to put an end to weeks of heavy fighting between Azerbaijan and Armenia.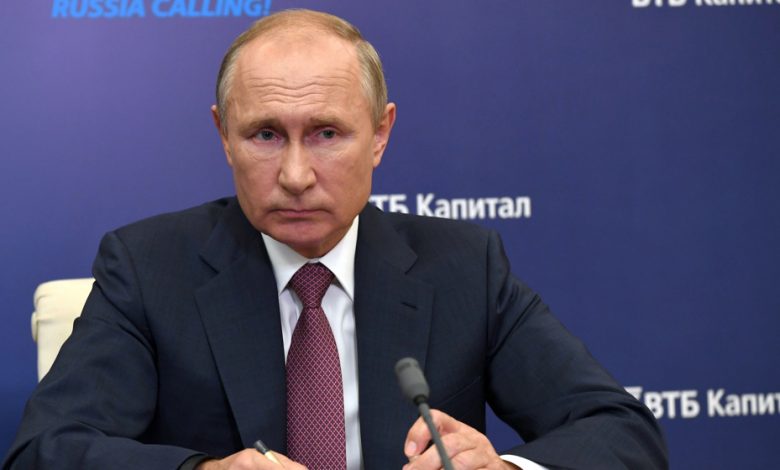 The Russian leader, who has so far brokered two ceasefire deals between the two Caucasus nations, said on Thursday that his government "is absolutely open with regard to the possibility of handing over," the occupied regions to Azerbaijan.
During more than a month of fighting in and around Karabakh, Azerbaijani forces have managed to take control of a large proportion of the mainly flat and sparsely populated territory, south of Nagorno-Karabakh.
Putin said on Thursday that he agrees to the return of "these five plus two [surrounding] districts to Azerbaijan, alongside the provision of a specific regime for the Karabakh zone and the securing of a link with Armenia."
"[We must] find a balance of interests that would suit both sides," he said, adding that "the interests of both the Azerbaijani people, whom we treat with unwavering respect, and the Armenian people, should be taken into account."
"Each side has its own truth. There are no simple solutions," Putin added.
Karabakh is internationally recognized as part of Azerbaijan, but it is held by ethnic Armenian separatists backed by Yerevan since 1992, when they broke from Azerbaijan in a war that killed some 30,000 people.
The conflict re-erupted in late September, becoming the worst fighting in the region in decades.
Following the flare-up, Russia brokered two ceasefires to bring an end to the deadly conflict, but its efforts to bring peace to the mountainous region failed as Yerevan and Baku continued to violate the agreements.
A return to Azerbaijan of the surrounding territories was first agreed in 2007, under the so-called Madrid Principles, in exchange for a self-proclaimed government of Karabakh with a corridor linking the region to Armenia.
But Baku said Yerevan failed to engage in talks over implementing those principles. Baku also said it wants the return of all the land occupied by Armenia.
Russia a close ally to Armenia is also in talks with Turkey, which supports Azerbaijan in the conflict.
Erdogan, who spoke to Azeri President Ilham Aliyev on Thursday, said he had set out his "red lines" to Putin and stressed that Ankara wouldn't hesitate to respond if these were crossed.
Erdogan did not provide details about what he called red lines, but Ankara has previously stressed that Armenia must withdraw from the occupied lands.
On Thursday, Putin also urged "Turkey and a number of European states" to work together to find a consensus over the conflict.
Iran, Russia share common approach on Karabakh
In the meantime, Iran, the other regional power, also put forward an initiative to bring peace to the disputed region, as all former peace efforts in Karabakh have so far ended in failure.
On a regional tour on Thursday, Iran's Deputy Foreign Minister Abbas Araghchi paid visits to Moscow, Baku and Yerevan to present Tehran's proposal.
He said the proposal is based on humanitarian principles and attention to the demands of the warring parties.
Araghchi, met his Russian counterpart Sergei Ryabkov in Moscow, after a meeting with Russian Deputy Foreign Minister for Central Asia and Caucasus Andrei Rudenko.
"Today in Moscow," Araghci said in a tweet, "I had a useful meeting and proposed the Iran initiative."
"Iran and Russia share common approaches toward the Nagorno-Karabakh conflict," he added.
Prior to his visit to Moscow, Aragchi met Azeri officials in Baku and later left the Azeri capital for Yerevan, where he said he had very intensive and useful talks in Baku and Moscow.
Earlier this month, Iranian Foreign Minister Mohammad Javad Zarif informed his Azeri counterpart Jeyhun Bayramov of the nature of a proposal by Tehran for resolution of the long-drawn-out conflict.
According to Zarif, the proposal foresees the Islamic Republic, Turkey, and Russia forming a trio that would boost a standing Minsk Group that has failed to resolve the territorial dispute. The Minsk Group that already comprises Russia, the United States, and France was formed after the 1992 Armenian invasion.
Tehran has repeatedly warned since late September that it would not tolerate even accidental violation of its sovereignty as a result of the escalation.