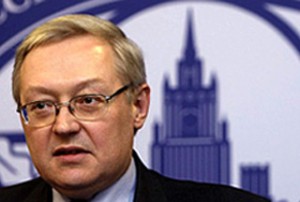 Moscow still hopes that a diplomatic solution to the "standoff over Iran's nuclear program" will work, Russia's deputy foreign minister says.
"We still have not lost hope for a solution to the Iranian nuclear problem through dialogue with Iran," Sergei Ryabkov, Russia's pointman on Iran nuclear talks, told Interfax News Agency.
Moscow has been reluctant to agree to new sanctions against Iran over its nuclear program. However, two weeks ago, Russian Prime Minister Vladimir Putin told US Secretary of State Hillary Rodham Clinton that Russia might accede to a sanctions resolution on Iran.
The US and its Western allies allege that Tehran is covertly after atomic weapons. However, the International Atomic Energy Agency inspectors have found no diversions in Iran's atomic program.
Moreover, Tehran, as a signatory to the Nuclear Non-Proliferation Treaty, insists that its nuclear program is only for civilian purposes.
Russia has said it will go ahead with the launch of Tehran's first nuclear power plant, which it has helped build in the southern city of Bushehr since the mid-1990s.