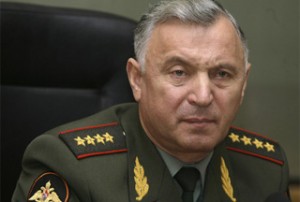 Russia has sent some 150 paratroopers to its Kant airbase in Kyrgyzstan, Russia's General Staff chief Nikolay Makarov said.
Makarov noted that the move was made to ensure the safety of families of Russian military staff in Kyrgyzstan.
"The president has decided to send two companies of paratroopers there and some 150 people have arrived in Kant," RIA Novosti quoted Makarov as saying.
Kyrgyz President Kurmanbek Bakiyev's government was ousted on Wednesday following a revolt that killed 74 people and injured over 500.
An interim government headed by the former foreign minister Roza Otunbayeva has been formed in the country.
Russian Prime Minister Vladimir Putin on Thursday spoke on the phone with Otunbayeva, who asked Moscow for economic assistance. Putin said Russia was ready to offer humanitarian aid.