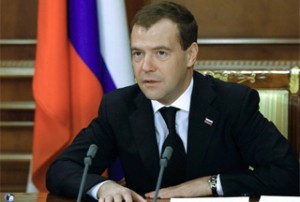 Russian President Dmitry Medvedev says the nuclear fuel swap deal that Turkey and Brazil are trying to revive could resolve the dispute over Iran's nuclear program.
"If such a type of proposal will be supported by all participants of this process, then this would be not a bad way out of the situation," Reuters quoted Medvedev as saying in the Turkish capital Ankara on Wednesday.
Turkey and Brazil, which are currently non-permanent members of the United Nations Security Council, are trying to revive the stalled UN-backed deal.
Under the proposed deal, Iran would send most of its low-enriched uranium abroad for further processing and conversion into fuel rods. The fuel would be used by the Tehran research reactor, which produces radioisotopes for cancer patients.
Turkish Prime Minister Recep Tayyip Erdogan and Brazilian President Luiz Inacio Lula da Silva are expected to visit Tehran next week to hold talks on Iran's nuclear program.
Lula is scheduled to arrive in Tehran on May 17 to attend the Fourteenth Summit of the Group of 15 (G-15), the Mehr news agency reported.
Erdogan will be visiting Iran as part of Ankara's efforts to resolve the dispute over Iran's nuclear program through diplomatic means.