Europe
Russia urges UN to pass Kiev statement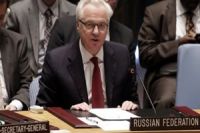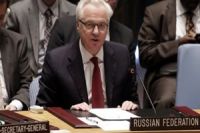 Russia has presented a proposal to the United Nations to pass a statement in support of the Geneva agreement over Ukraine.
"I think it would be right to end our meeting with such a statement," Vitaly Churkin, Russia's permanent representative to the UN, said at an extraordinary meeting of the UN Security Council (UNSC) on Friday.
Churkin added that the statement should urge "to immediately stop any violence, including the use of armed forces in Ukraine's eastern regions and take serious steps to fully implement the Geneva document."
The proposal received no objection from the UNSC members.
The emergency meeting of the UNSC was called by Russia to discuss the "serious escalation of violence in Ukraine" amid a military operation against pro-Russian protesters in eastern parts of the country.
Tensions in Ukraine heightened after the Autonomous Republic of Crimea declared independence from Kiev and formally applied to become part of the Russian Federation following a referendum on March 16, in which about 97 percent of the participants voted for reunion with Russia.
The move led to pro-Russian protests in the eastern and southern parts of Ukraine. Kiev accuses Moscow of supporting the protesters, a claim which Moscow denies.
On April 17, Russia, Ukraine, the United States and the European Union agreed in Geneva over steps to "de-escalate" the crisis in eastern Ukraine, where anti-Kiev protesters have seized buildings in several towns and cities.
But Ukrainian authorities have ordered a military offensive against the protesters.
On Friday alone, over 45 people were killed in one of Ukraine's deadliest days since the beginning of the crisis.