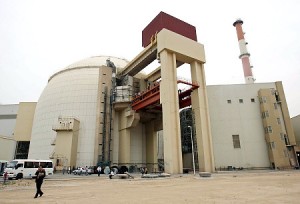 Russia says it will go ahead with the inauguration of Iran's Bushehr atomic power plant despite growing opposition from the United States.
Russian Foreign Ministry Spokesman Andrei Nesterenko made the remarks days after US Secretary of State Hillary Clinton warned that the launch of the long-delayed 1,000 megawatt plant would send Tehran the wrong message.
The US and its allies have been trying hard to push through a fourth round of sanctions against Iran, while China and Russia have been reluctant to go along with the scheme.
Nesterenko said, "Everything is being done under IAEA [the International Atomic Energy Agency] regulations" and "spent fuel deliveries to Iran will be returned to Russia with the IAEA's seal according to the standards of all the existing technology in this field."
Russia says it will put the nuclear reactor into service in August.
Nesterenko said that Clinton did not voice any concern over the project during the talks in Moscow.
In 1995, Russia signed an agreement with Iran to build the plant. Under the deal, the plant was originally scheduled to be completed in 1999, but the completion of the $1 billion project has been frequently delayed.
Nesterenko added that possible new sanctions on Iran over its nuclear program would not halt the start-up of the plant.
"It would be wrong to make any links between the construction and the launch of the plant and the growing need to take new measures towards Tehran," AFP quoted the Russian official as saying on Thursday.
Although the IAEA inspectors stationed in Iran have not been able to find any evidence to support US and European claims of diversion in the Iranian nuclear program, the Western allies continue to accuse Iran of pursuing nuclear military aims under the guise of a civilian program — a claim repeatedly rejected by Tehran.
Iran is adamant that, as a signatory to the Nuclear Non-Proliferation Treaty, its nuclear program is peaceful and aimed at civilian applications of the technology which many Western countries enjoy but try to prevent other states to acquire.