World News
"Russia would only use nuclear weapons if existence threatened"
The Kremlin says Russia will only use nuclear weapons if its very existence were threatened, as concerns continue to grow in the West that Moscow's military operation in Ukraine could escalate into a full-scale nuclear war.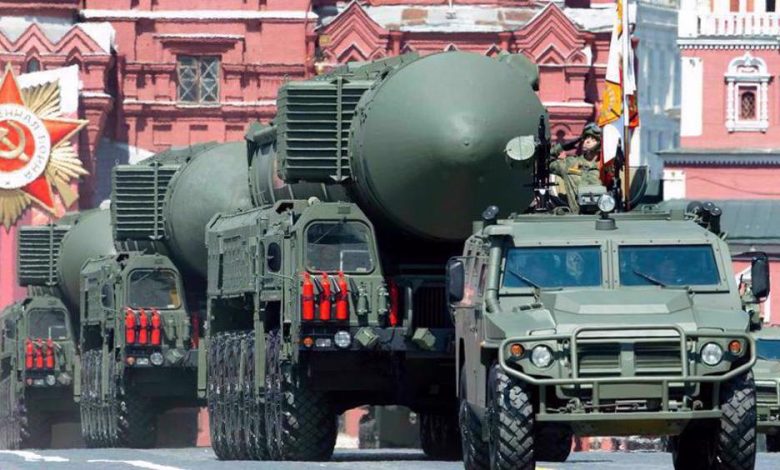 Kremlin spokesman Dmitry Peskov made the remark during an interview with CNN International on Tuesday, when asked whether he was "convinced or confident" that President Vladimir Putin would not use nuclear weapons in the context of the Ukraine conflict.
"We have a concept of domestic security and it's public, you can read all the reasons for nuclear arms to be used. So if it is an existential threat for our country, then it (the nuclear arsenal) can be used in accordance with our concept," he said.
He also stressed that there are no other reasons Russia could use the nuclear option, according to the country's security policy.
Peskov further noted that Russia's war in Ukraine was "going on strictly in accordance with the plans and the purposes that were established beforehand."
The comments came a day after United States President Joe Biden said it is "clear" Russia is considering the use of chemical and biological weapons in Ukraine, warning of a "severe" Western response if it chose to do so.
Putin announced a "special military operation" in Ukraine on February 24. The conflict has provoked a unanimous response from Western countries, which have imposed a long list of sanctions on Moscow.
On February 27, the Russian president put the country's nuclear deterrence forces on "high alert," after NATO countries said they would speed up weapons and other military assistance to help Ukraine battle Russian forces.
United Nations Secretary-General Antonio Guterres has already warned that "the prospect of nuclear conflict, once unthinkable, is now back within the realm of possibility."
'Confrontational' Russia talks moving ahead: Ukraine
Meanwhile, Ukrainian President Volodymyr Zelensky has expressed hope for peace talks with Russia to end the war, saying the talks are confrontational but moving forward.
"It's very difficult, sometimes confrontational," he said in an early morning address on Wednesday. "But step by step we are moving forward."
Russian and Ukrainian officials have held several rounds of talks since Russia began the military operation.
The most high-level negotiations were held between their foreign ministers in Turkey. But diplomacy has so far failed to produce any breakthrough.
Zelensky has repeatedly called for direct talks with his Russian counterpart, Putin, saying he was ready for a compromise to end the conflict. Moscow says the latest round of talks has not made enough progress to warrant a meeting between the two heads of state.
Russia has already said it will halt the military operation instantly if Kiev meets Moscow's list of conditions, including that Ukraine never attempts to join NATO.
The military conflict has so far displaced more than 3.5 million people in what the United Nations has described as the fastest growing refugee crisis in Europe since World War II.
Zelensky's remarks come as Mariupol city council has accused Russia of turning the besieged port city into the "ashes of a dead land" with its intense air strikes.
Regional governor Pavlo Kyrylenko says hundreds of thousands are believed to be trapped inside buildings, with no access to food, water, power or heat, adding that both civilians and Ukrainian troops are coming under Russian fire.
Ukrainian Deputy Prime Minister Iryna Vereshchuk also said at least 100,000 people wanted to leave Mariupol but could not.
Russia's RIA news agency, citing a separatist leader, reported that Russian forces had taken about half of the port city, normally home to around 400,000 people.
Mariupol has become the focus of the war that erupted since Russia sent its troops over the border. The port city lies on the Sea of Azov and its capture would allow Russia to link areas in the east held by pro-Russian forces with the Crimean peninsula, which joined the Russian Federation following a referendum in 2014.
The latest development also comes as the West is planning to announce more sanctions against Russia this week, amid a worsening humanitarian crisis in Ukraine.
White House national security adviser Jake Sullivan said on Tuesday that President Biden and US allies would announce the new sanctions when the president travels to Brussels on Thursday. 
"He will join our partners in imposing further sanctions on Russia and tightening the existing sanctions to crack down on evasion and to ensure robust enforcement," Sullivan told reporters during a press briefing.
According to a report The Wall Street Journal, the Biden administration will sanction hundreds of Russian lawmakers in an extension of the current sanctions on the Kremlin.
President Putin said earlier this month that Western sanctions on Russia were akin to a declaration of war.