Europe
Russian missiles hit aircraft plant near Lviv airport in western Ukraine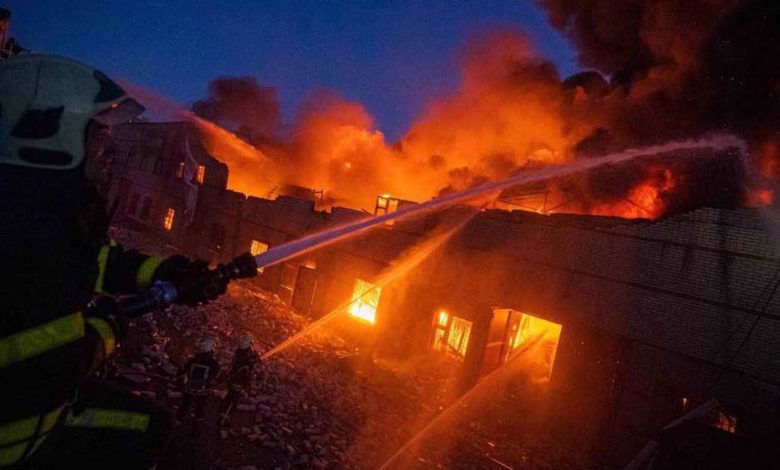 A Russian missile attack near the airport in western Ukraine's Lviv has destroyed a factory and damaged a bus repair garage, sending shockwaves across the garrison city where thousands of refugees have taken shelter from the raging war.
City residents were woken by deafening air raid sirens in the wee hours of Friday morning, as a plume of smoke rose through the clear azure sky.
The mayor of Lviv, Andriy Sadovy, was quoted as saying that several missiles had struck an aircraft repair factory in the city and authorities were assessing the situation.
In a Telegram post, Sadovy said the aircraft repair building was destroyed in the fire, but operations had already been suspended and there were no casualties.
Emergency vehicles had rushed to the scene, while motorists were turned away at checkpoints, the AFP news agency reported on Friday.
The Ukrainian Air Force, citing preliminary reports, said the aircraft repair plant was hit by cruise missiles launched from the Black Sea and that other Russian missiles were reportedly shot down by Ukrainian anti-aircraft defense mid-air.
US President Joe Biden is due to hold a telephone conversation with his Chinese counterpart Xi Jinping later on Friday in a fresh attempt to persuade Beijing to condemn Russia's military operation in the former Soviet republic.
US Secretary of State Antony Blinken said Biden will "make clear that China will bear responsibility for any actions it takes to support Russia's aggression and we will not hesitate to impose costs."
"It appears that China is moving in the opposite direction," Blinken said, adding he was "concerned that they're considering directly assisting Russia with military assistance."