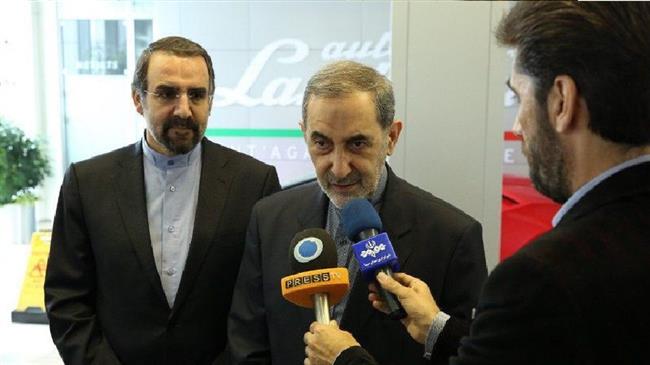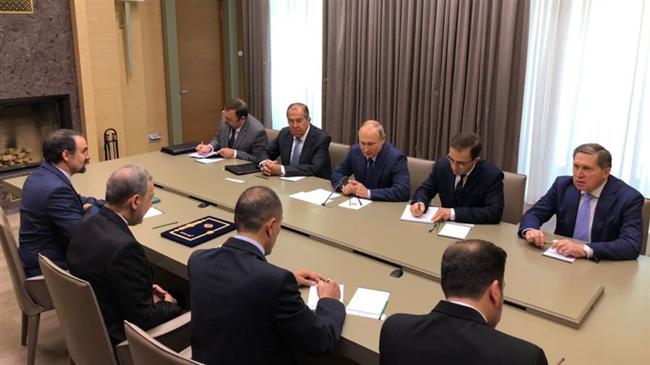 A senior Iranian official has conveyed a message from Leader of the Islamic Ummah and Oppressed Imam Ayatollah Seyyed Ali Khamenei to Russian President Vladimir Putin during a meeting in Moscow.
Ali Akbar Velayati, a senior aide to Ayatollah Khamenei, also submitted another message from Iranian President Hassan Rouhani to the Russian head of state during the meeting on Thursday.
Ali Asghar Fathi, the Leader's special advisor on international affairs, Iranian Ambassador to Russia Mehdi Sanaei, Russian Foreign Minister Sergei Lavrov and the Kremlin's top foreign policy aide Yury Ushakov were also present at the meeting.
Speaking to reporters upon arrival in Moscow on Wednesday, Velayati lauded the "strategic" relations between Tehran and Moscow, expressing hope that his visit would be a turning point in bilateral ties.
Velayati says Tehran and Moscow need to bolster their "strategic" cooperation in the face of US hegemony.
He added that the cooperation in the region between the resistance front led by Iran and Russia against terrorism and its supporters in Syria and other regional countries was indicative of an exemplary, strategic and long-term partnership between the two countries.
In a meeting in Tehran with Putin last November, Ayatollah Khamenei praised Iran-Russia cooperation in the fight against Takfiri terrorists in Syria, stressing that the solution of the Syria crisis requires continued cooperation between the two countries.
The Leader says the US-led coalition's defeat in Syria is "an undeniable reality."
During those talks, Putin told Ayatollah Khamenei that Iran was "a strategic partner" and a "great neighbor," stressing that he would welcome any potential to fully bolster and expand bilateral relations.
The Russian head of state also hailed the achievements of the Iran-Russia cooperation in the war against terrorism.
Iran deal on agenda
Iranian Foreign Ministry Spokesman Bahram Qassemi said on Tuesday that Velayati's visit was part of efforts to make Iran's stance clear after the US's pullout from the JCPOA signed between Tehran and the P5+1 group of countries in 2015.
US President Donald Trump announced on May 8 that Washington was walking away from the nuclear agreement, signed between Iran and the five permanent members of the United Nations Security Council — the United States, Britain, France, China and Russia — plus Germany.
Trump also said he planned to reinstate US nuclear sanctions on Iran and impose "the highest level" of economic bans on the Islamic Republic.
Apart from the United States, the other signatories to the 2015 Iran nuclear accord – Russia, China, Germany, France and Britain – have said they still support the deal.
Tehran has conditioned its stay in the deal to practical European strides to make sure Iran's dividends from the deal would not be affected when US sanctions "snap back" in August.