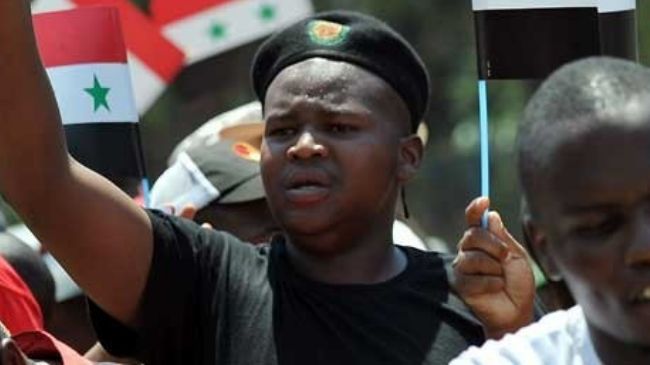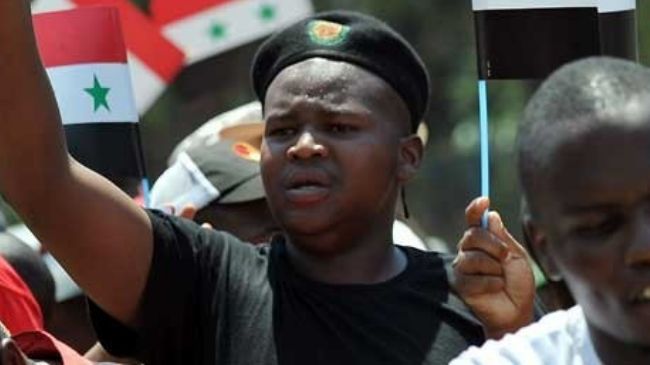 Hundreds of people in South Africa have staged a sit-in outside the US embassy in Pretoria to protest against the US-led "imperialist aggression in Syria."
The protest was organized by the "Coalition Against Imperialist Aggression in Syria," which consists of South African political parties, trade unions and civil society organizations, including the Congress of South African Trade Unions (COSATU) and the South African Communist Party (SACP) on Friday.
"We are demanding an immediate end of the … war in Syria and the continuous beating of war drums by the USA and other imperialist countries," said Bongani Masuku, International Relations Secretary of the COSATU.
The protesters, holding anti-war placards and shouting anti-US slogans, also called for peace, justice and democracy for all in the world.
The aim of the sit-in was to "condemn the USA-led and Israeli supported imperialist aggression, war-mongering, killings, human rights abuses and plunder, particularly in Syria as well as in the broader Middle East," Masuku said.
Later in tha day, the COSATU also issued a statement and condemned the war in Syria.
"The war in Syria is fuelled and in the interest of imperialism and those allied to it for their own narrow, selfish profit interests at the expense of the peace-loving people," said the statement.
The United States threatened a military strike against Syria under the pretext that the Syrian government was behind a fatal chemical attack on the outskirts of Damascus on August 21. Damascus categorically rejected the allegation.
However, the UN Security Council approved a resolution on September 27 supporting a Russia-US deal to destroy Syria's chemical weapons by mid-2014. The deal was reached after Moscow offered Syria to place its chemical weapons arsenal under international supervision and Damascus accepted the proposal.
The first members of OPCW-UN inspectors have started their mission to oversee the elimination.
On October 9, OPCW Director General Ahmet Uzumcu praised Syria's cooperation with the team of inspectors, saying, "The cooperation has been quite constructive and I would say the Syrian authorities have been cooperative."
Syria has been gripped by deadly unrest since 2011. Reports indicate that the Western powers and their regional allies — especially Qatar, Saudi Arabia, and Turkey — are supporting the militants operating inside the country.
According to the United Nations, more than 100,000 people have been killed and millions of others displaced in the violence.