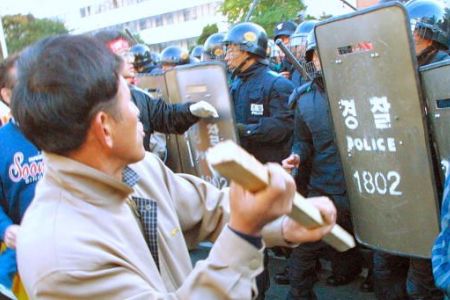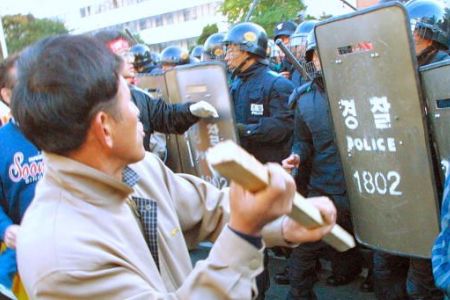 Anti-North Korea sentiments run high among South Koreans as hundreds of protesters urge stern action against Pyongyang over its recent assault.
Last Tuesday's shelling of a South Korean island by the North Korean military near their disputed maritime boundary in the Yellow Sea has stoked the outrage in Seoul, where 1,000 South Korean marine veterans staged a massive demonstration and burned the North Korean flag, AFP reported on Saturday.
The attack, the first shelling of civilians since the 1950-53 Korean War, left two South Korean marines and two civilians dead.
Meanwhile, protesters clashed with police forces in Seoul in front of the South Korean defense ministry and called on their government officials to move expeditiously to retaliate for the deaths of its soldiers.
Demonstrators burned portraits of North Korean Leader Kim Jong II and his son, who is considered the next in line for ruling the country.
Emotions are running high in South Korea as it buried two of its marines, killed in the attack on Saturday.
At a special funeral ceremony in Seoul, Lieutenant General Yoo Nak-Joon, the commander of South Korean Marine Corps threatened North Korea with revenge.
The protest has taken place as the United States is sending the aircraft carrier, the USS George Washington, to join South Korea's forces near the coasts of China and North Korea in a four-day military drill that starts Sunday.
China has warned the United States against any military adventurism on the Korean Peninsula following the crisis.