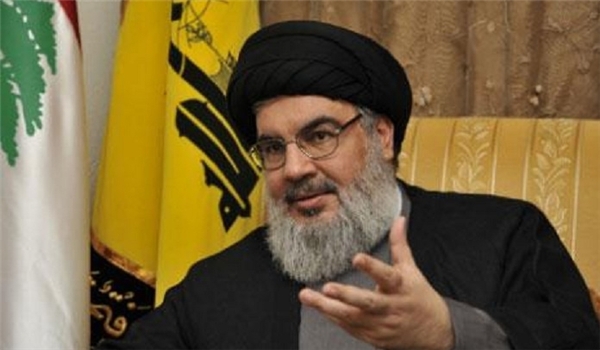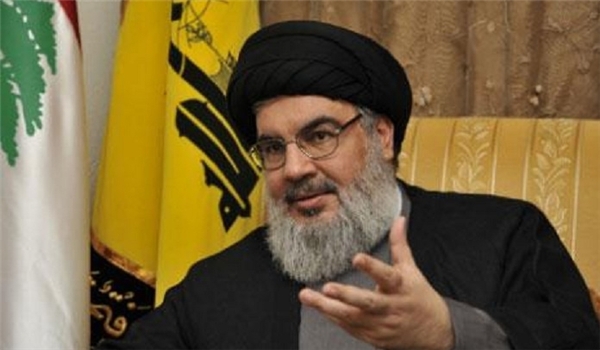 Hezbollah Secretary General Seyed Hassan Nasrallah in a meeting with Secretary of Iran's Supreme National Security Council (SNSC) underlined that fighting Takfiri terrorist groups sets a priority for the Lebanese resistance group.
"Hezbollah's priority in its confrontation against the threats of Takfiri terrorism is preventing the spread of crisis and insecurity to the Lebanese community and maintenance and strengthening of stability and national unity of the country," Nasrallah said in Beirut on Tuesday.
He appreciated Iran's continued support for the resistance movement and campaign against terrorism, and said, "Fighting the growing threats of Takfiri terrorism needs non-theatrical moves and avoidance of double-standard and suspicious behavior."
Shamkhani, for his part, lauded Hezbollah for its growing influence and power in the region and its positive role in balancing the political and security atmosphere in Lebanon.
In relevant remarks earlier this month, Deputy Secretary-General of the Lebanese Hezbollah Resistance Movement Sheikh Naim Qassem said Hezbollah forces are fully ready to fight the terrorist Takfiri groups upon an order by Supreme Leader of the Islamic Revolution Ayatollah Seyed Ali Khamenei.
"The world arrogance managed to activate the Takfiri groups through cooperation with al-Qaeda and if we study the situation in North African states, we will find out that most of their revolutions have been stolen," Qassem said in an interview with the Arabic-language monthly, '42'.
He blamed the world arrogance, Zionism and their advocates for the current differences and sedition in the Muslim world, and said, "We know that enemies always prepare a ground for striking a blow at the resistance and one of Hezbollah's most important missions is to study the current situation and prevent the legitimization of minor differences among Islamic faiths."
On the resistance movement's plans for fighting the terrorist Takfiri groups, Qassem said, "We announce clearly that Hezbollah forces are always on the alert and all people should know that we are ready to obey the orders of Supreme Leader of the Islamic Revolution Ayatollah Seyed Ali Khamenei" to hit the Takfiri terrorist groups once a relevant order is issued by the Supreme Leader.