Africa
S Sudan rebels accuse government of post-ceasefire attacks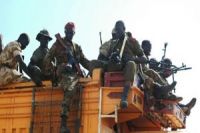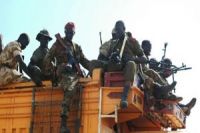 Tensions are mounting again in South Sudan as rebels have accused the government forces of launching fresh attacks despite a recent ceasefire between the two sides.
Rebel spokesman, Lul Ruai Koang, on Friday accused the government of launching "simultaneous attacks" on their positions in the northern oil state of Unity, and in the volatile eastern Jonglei region.
This is while, army spokesman, Philip Aguer, has responded by saying that he had "no reports of fighting" on Friday and that clashes in the Jongeli region occurred on the previous morning before the truce was signed.
Representatives of President Salva Kirr and rebel leader, Riek Machar, signed the ceasefire agreement late Thursday in the Ethiopian capital, Addis Ababa.
The deal is to come into effect later on Friday, in which both sides must stop fighting and put in place a verification and monitoring mechanism for the implementation of the ceasefire while allowing unrestricted access to aid workers.
Deadly violence in South Sudan broke out in Juba on December 15, 2013, when Kiir accused his sacked deputy, Machar, of attempting to stage a coup.