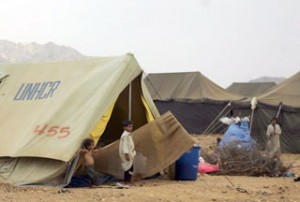 The Houthi fighters maintain the siege imposed by Sana'a government on the rugged northern Sa'ada province continues unabated, leaving the residents of the war-torn province bordering Saudi Arabia utterly devastated.
The Houthi fighters say the government has imposed a siege on the northern city of Sa'ada, preventing people from leaving the city over the past three months.
They went on to add that the true extent of the calamity in both Sa'ada City and its governorate is an underestimate, due to logistical constraints placed on relief agencies by the fighting. This has accordingly left thousands of civilians on the brink of death due to acute malnutrition, disease, and impoverishment.
The development comes as Sana'a has refused to heed UN concerns over the humanitarian situation in the war-ravaged region.
Joe Stork, Deputy Director of Human Rights Watch's Middle East and North Africa division, says, "To date, the Yemeni government has not responded to calls by the UN Secretary-General and UN agencies for the establishment of humanitarian corridors to allow civilians to safely flee the conflict zone and to guarantee agencies safe passage to reach civilians, including the displaced, who remain."
Giancarlo Cirri, the Word Food Program's representative in Yemen, meanwhile screened children in Sa'ada City and the surrounding Internally Displaced Persons (IDP) camps. He found that 4.5 percent of the children in those camps suffered severe malnourishment and nearly 13 percent moderate malnourishment. He reported that, "The nutrition situation in the city was even more serious, with 12.6 percent of children severely malnourished and 27.2 percent acutely malnourished."
According to the UN Office for the Coordination of Humanitarian Affairs, 50,000 Yemeni civilians have been displaced since August alone, bringing the total number of internally displaced people from the northern governorates of Yemen (Sa'ada, Amran, al-Jawf and Hajjah) to 150,000. By UNICEF's count, one-half of them are children.
The conflict in northern Yemen began in 2004 between Sana'a and Houthi fighters. The conflict intensified in August when Yemen's army launched Operation Scorched Earth against Sa'ada.
The Houthis accuse the Yemeni government of violation of their civil rights, political, economic and religious marginalization as well as of large-scale corruption.
The Saudi air force has further complicated the conflict during the past month by launching its own operations against the Shia resistance fighters.
The Houthi fighters say that Riyadh has been allowing Yemeni government troops to pound their positions and Saudi forces strike Yemeni village and indiscriminately target civilians there. According to the fighters, Saudis use toxic materials including white phosphorous bombs against civilians in north Yemen.
Human Rights Watch, in a letter to UN Under-Secretary-General for Humanitarian Affairs and Emergency Relief Coordinator John Holmes prior to his visit to Yemen in November, had implored him to call on Riyadh to immediately cease its deportation of Yemeni refugees, fleeing the conflict zone and seeking safety in Saudi Arabia.