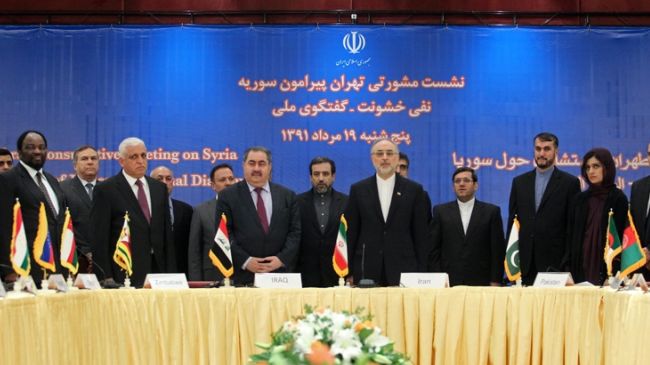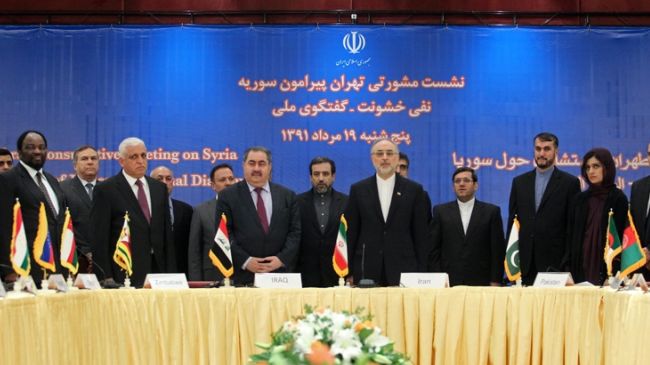 The Friends of Syria conference kicked off on Wednesday in the Iranian capital of Tehran, with delegations from 40 countries participating in the conference under the headline of "political solution and regional stability."
In his opening speech, Iranian Foreign Minister Ali Akbar Salehi said that this conference constitutes an important step for resolving the crisis in Syria, stressing that since the beginning of the crisis, Iran focused on the need to stop bloodshed and take peaceful steps to restore calm in Syria in order to implement reforms and realize the Syrians' demands.
Salehi pointed out that Iran supported Moscow's efforts to hold an international conference, and that it proposed a six-point plan for resolving the crisis in Syria based on stopping violence, continuing national dialogue, and laying the groundwork for free elections to form a new parliament and form a new constitution, all of which would allow the Syrians to dictate their true will democratically away from foreign interference.
He asserted that Iran rejects funding and arming irresponsible armed groups in Syria by some sides, the need for not allowing foreign interference in Syria and that the sides claiming to want democracy for the Syrian people must let them decide their destiny on their own.
Salehi warned that what is happening in Syria will destabilize the region and the world and lead to destructive repercussions, affirming that violence and delaying the political solution isn't in any country's interest and would lead to a situation that's even more difficult to manage than the current crisis.
He pointed out that Iran communicated effectively with all Syrian opposition groups which respect sovereignty and oppose foreign interference, in addition to supporting regional and international steps that emphasize a political solution, such as Kofi Annan's initiative and the efforts of Lakhdar Brahimi.
The Iranian Foreign Minister noted that his country spared no effort in providing support and humanitarian relief to the Syrian people, participating in international efforts, helping displaced Syrians in Lebanon, Jordan and Iraq, and sending shipments of essential goods to the Syrian people, in addition to supporting the electricity grid in Syria.
He said that helping resolve Syria's economic problems in the face of unjust sanctions is an issue that should receive serious attention from all countries and international organizations, as the sanctions never served the interests of the Syrian people; rather they exacerbated their suffering.
Salehi pointed out to Iran's work in providing aid to the Syrian people as per the request put forth by Switzerland, with Iran holding a meeting with representatives of Syria and Switzerland on two stages which produced positive results in terms of providing relief to Syrians with the help of the Syrian Arab Red Crescent (SARC).
He reiterated Iran's denouncement of the recent Israeli attacks on sites and Syria and its rejection for any foreign and military intervention, affirming support for discussing this issue in Geneva and the steps taken by the UN Secretary-General to resolve the crisis peacefully.
The Iranian Foreign Minister warned against interfering in Syria's internal affairs through international establishments since this undermines' Syrians right to self-determination and consequently would make the crisis more complicated.
Salehi said that halting violence in Syria is done by preventing the flow of funds and weapons to terrorists in Syria through group action, controlling the borders, and preventing the sending of extremists into Syria, calling on neighboring countries to exert efforts in this regard.
He also suggested forming a communication group as soon as possible to move the proposed international conference forward and communicate with the Syrian government and opposition.
Salehi concluded by saying that the crisis in Syria has become complicated due to the recent Israeli attacks, which requires constructive and effective efforts by friendly countries which believe that Syria is an important and influential country in the Middle East and that the continuation of the crisis in it poses a serious threat to stability in the entire region.