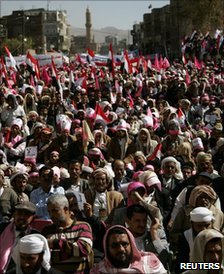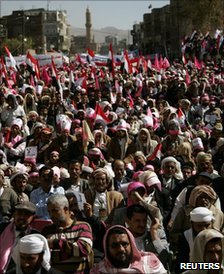 Yemeni authorities have reportedly facilitated deadly attacks by forces loyal to President Ali Abdullah Saleh on anti-government protesters.
Human Rights Watch on Tuesday criticized Yemeni officials and security forces for turning a blind eye to almost daily attacks by armed pro-government forces on peaceful protesters, saying security forces often stand by while such attacks occur in places away from the capital of Sana'a.
"The world is watching largely peaceful protests in Sana'a, but Yemeni officials are at best standing by or at worst helping gangs assault demonstrators in places far from the public eye. Governments in the region and beyond claiming to support democratic reform and accountability should urge President Saleh to halt these thuggish attacks now", News Yemen website quoted Joe Stork, deputy Middle East director at Human Rights Watch, as saying.
Since the beginning of anti-government demonstrations in Yemen in mid-February, dozens of protesters have been killed and wounded after forces loyal to the embattled Yemeni president armed with batons, knives, daggers and sometimes firearms, attacked their peaceful protest rallies.
According to eyewitness testimonies, security forces stood by as pro-government forces attacked anti-Saleh protesters with daggers and stones during prayer time in the western port city of al-Hudaida on March 2, injuring more than two dozen people.
Witnesses have also told HRW that in some attacks military jeeps and cars with government license plates were used.
On February 18, at least two anti-government protesters were killed and 25 others injured as a hand grenade was hurled into a crowd of protesters in the city of Taez, south of the capital Sana'a. The grenade was lobbed at protesters from a speeding car that carried government license plates, witnesses said.
Some reports, however, suggest that the attackers are recruited by local officials.
"The officials who organized these attacks or stood by and did nothing have as much blood on their hands as the assailants with guns and daggers," Stork said. "Yemeni authorities need to publicly order a halt to these attacks, conduct immediate and impartial investigations, and hold those responsible to account."
Protesters want an end to Saleh's 32-year old rule. They are also demanding more job opportunities, an end to corruption, and a just distribution of wealth.
The Yemeni president, however, has rejected calls for step down and has vowed to serve out his current mandate until 2013.