Europe
Sanctions on Iran leaves 11,000 French jobless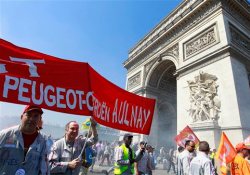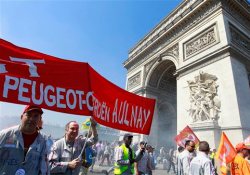 After losses for French automaker Peugeot-Citroën, workers have gone on strike for 2 weeks, protesting layoffs, in Paris suburb of Aulnay-Sous-Bois.
MNA quoted Euronews reporting that "France's largest automaker, struggling to compete in Europe's stagnant car market, is cutting 8,000 jobs and closing the Aulnay-sous-Bois factory."

The decision has been taken after the French company has stopped export of automobile spare parts to Iran under pressure from US sanctions.

* Peugeot workers' union representative: Sanctions on Iran is to blame for lay-offs

Union's representative of CGT in France had cited halting cooperation with Iran as a major factor bringing loss for the French company.

Jean-Pierre Mercier of CGT says that company officials have been deceiving us for 12 months. "Analysts forget that Peugeot has decided to ignore Iran's great car market for Peugeot products. Peugeot has been selling 450,000 cars annually to Iran, but it avoided Iranian market for political motives," he believed.

A graphist view of the effect of sanctions on Iran on Peugeot
In the first 6 month of 2012, Peugeot has cut selling of 240,000 cars compared to that in the same time in 2011. Of 750,000 job opportunities lost in recent 10 years in French industry sector, 100,000 were for automaking sector.
* Iran, one of greatest markets for Peugeot products
Although Peugeot pays huge losses due to sanctions on Iran, it does not agree to sanctions, but under pressures from Nicolas Sarkozy's government pressures in next 6 months, and of Olande's government pressures, and GM of the US as one of main shareholders of Peugeot, management of the company have compromised to such a huge loss.
Mehr News quoted Euronews reporting that "Peugeot also this year entered into an alliance with GM of the US."
According to Peugeot, 10 per cent of the company's products in world markets related to its contracts with Iran's Iran Khodro industries.
Meanwhile, a member of Majlis (Parliament) Industries Commission said that Iran's industry was capable of sidestepping every sanction and walk on the path to development, and definitely, French industry and economy, especially Peugeot company would be the real losers of economic sanctions on Iran.