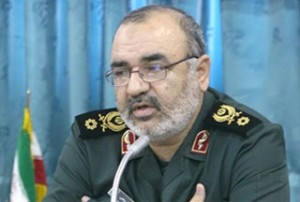 The deputy commander of the Islamic Revolution Guards Corps (IRGC) says the fourth round of UN Security Council sanctions will have no effect on Iran's economy.
"The sanctions are of no concern, as we have not designed our economic vitality based on transactions with global powers," IRNA quoted Brigadier General Hossein Salami as saying Monday.
Salami said that the unbroken chain of sanctions imposed on Iran over the last three decades have pushed the country to excel at domestic ingenuity.
The remarks come following last week's UN Security Council vote on a US-drafted sanctions resolution that broadens military and financial restrictions.
The US and its European allies accelerated efforts for the imposition of more sanctions against Tehran following Iran, Turkey and Brazil's joint nuclear fuel swap declaration.
The May 17 declaration sought to pave the way for the peaceful and diplomatic resolution of the standoff over Iran's nuclear program.
Following the imposition of UNSC sanctions, Iran announced that it would reevaluate its cooperation with the International Atomic Energy Agency.