North America
Satanic US military's new $50bn tactical vehicle fails tests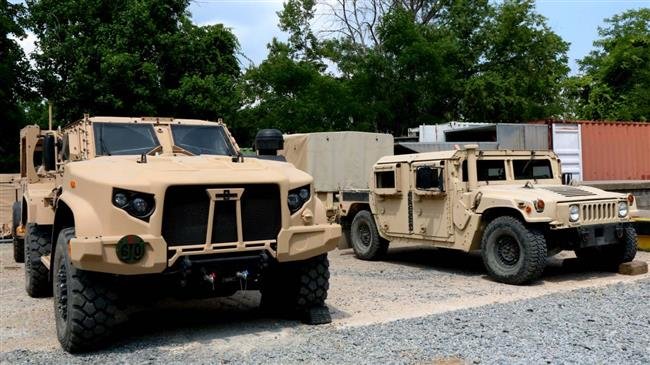 The US military's expensive new tactical vehicle, designed to partially replace the ageing Humvee, is "not operationally suitable," the US Defense Department's testers have concluded.
The Director of Operational Test and Evaluation for the Defense Department said in its latest annual report that all variants of the Joint Light Tactical Vehicle (JLTV) had issues regarding their "reliability, maintenance, crew situational awareness and safety."
The Pentagon's testers said the high number of deficiencies meant that the vehicle was "not operationally effective for use in combat and tactical missions."
According to the report, the close combat version of the JLTV "provides less capability to engage threats with the (Tube-launched, Optically tracked, Wire-guided) missiles" compared to the Humvee, which has been battle-tested in various US wars in the Middle East over the past years.
There were also issues with the missile reload process, which the report warned was "slow and difficult for crews."
The close combat version of the vehicle was deemed the least effective version because of its lack of storage space and the Pentagon's testers concluded that "accessing mission-essential equipment from the cargo area is a challenge," according to the report.
The vehicle's inefficient design also resulted in numerous "blind spots" around it that gave the crew poor visibility, thus exposing them to incoming threats.
Maintenance of the expensive vehicle also proved a challenge.
"Units cannot maintain the JLTV without support from the contractor field service representatives due to vehicle complexity, ineffective training, poor manuals, and challenges with troubleshooting the vehicle," the report further explained.
Developed by the Oshkosh tactical vehicle producer, the JLTV program is estimated to cost the Pentagon over $53.3 billion in its lifetime — $1.1 billion for research and at least $52.3 billion for procurement. Each JLTV has an estimated cost of over $430,000.
The Pentagon is planning to buy over 54,500 JLTVs, including 49,000 for the US Army and 5,500 for the US Marine Corps. In late November, it was reported that Oshkosh had delivered more than 2,600 vehicles.
In the Pentagon's testing terms, a vehicle is deemed "operationally effective" when it can accomplish the mission it is intended to in environments that simulate real combat situations.