Iran
North America
Satanic US Treasury Intensifies desperate Crackdown on Iranian Media, Blocks Iran Newspaper.com Domain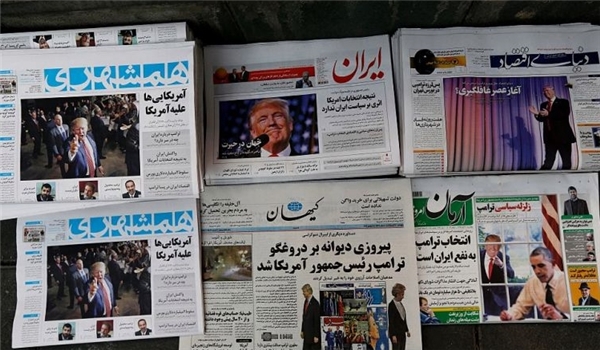 The US Treasury cut off access of Iran newspaper to its .com domain in a flagrant violation of the freedom of expression after a similar move against Fars News Agency in January.
"The US Treasury Department's Office of Foreign Assets Control (OFAC) has seized and blocked the .com domain of Iran Newspaper", the state-run paper announced on Saturday.
The paper further explained that the US Treasury has replaced the "Iran Newspaper" with "OFAC Holding" as owner of the domain.
The paper said that its website is available on Irannewspaper.ir, adding that it has started litigation against the United States' illegal move.
In a similar move on January 25, the registrar company that was rendering service to the Fars News Agency blocked FNA's access to its .com domain and explained in an e-mail that the established OFAC rules and regulations ban service providing to the Fars News Agency.
The move came as neither the Fars News Agency nor any of its directors and executives has ever been blacklisted in OFAC's Specially Designated Nationals (SDN), implying that the US unilateral sanctions that are illegal per se as they fall outside the UN Security Council and UN Charter have been used as an instrument to contain the voice of the Iranian news agency in a flagrant violation of human rights and freedom of expression.
Further examinations of the lawyers also showed that none of the real or legal persons responsible in the privately-owned Cultural Institute of Fars News Agency, which holds the license for running the FNA, has been added to the SDN list.
Meanwhile, the American domain registrar company who used to offer the .com domain of the FNA still refuses to give the news agency the needed user access to change its service provider.
Fars lawyers have been fighting to get back the domain or make the registrar company unlock its dashboard allowing FNA to depart to a non-American service provider.
The US Treasury has been blocking the domains of a number of other Iranian media ever since then.