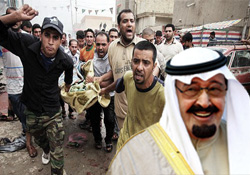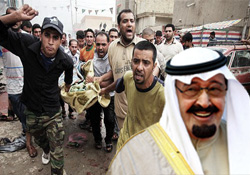 Member of the Iraqi National Alliance says international counter-terrorism conference in Saudi Arabia is an irony, since this country is the main supporter of terrorism.
Jum'ah al-Atwani told Al Alam news network that Saudi Arabian authorities decision to hold the conference is blatant attempt, since all, including Global Arrogance know that Saudi Arabia is one of the countries which provides the most ideological, political and financial support for terrorism.
"Saudi hosts the counter-terrorism conference when Iraq is the main victim to Saudi-supported terrorist groups, and as Iraqi officials said, only in January 26, 250 Saudi-backed terrorists had been arrested in Iraq. They had been sent to carry out military terrorist acts in Karbala, Najaf, and Divaniya," he said.
"According to Commander of Iraqi forces, Bandar bin Sultan bin Abdulaziz Al Saud, the head of Saudi Intelligence had provided $ 250m for terrorist acts in Iraq," he asserted.
Atwani also added Al Saud regime, governed by Wahhabist ideology, could not fight the terrorism, terrorism, based on Saudi-backed wanton killing of individuals heedless of their affiliations.
He also pointed to Saudi support of terrorism. "Arms imported by Saudi Arabia are delivered to terrorists by the regime," he added.
International Conference on counter-terrorism is being held with participation of UN, Saudi Arabia, and 49 countries since Saturday, February 16th in Riyadh, Saudi Arabia.