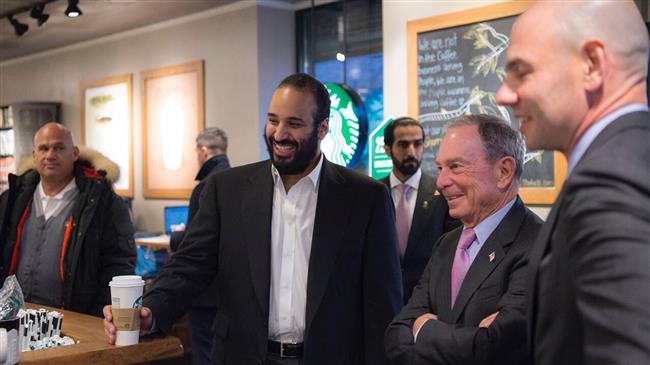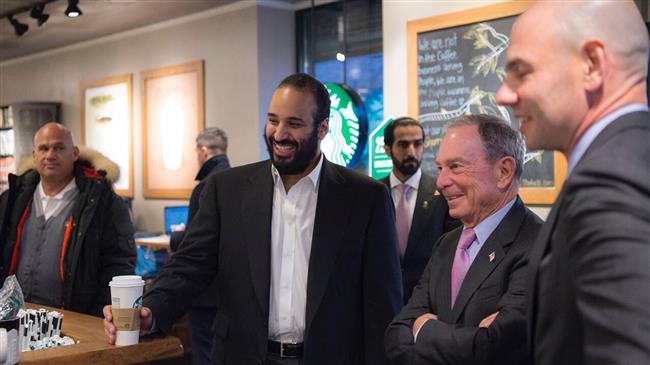 Saudi Crown Prince Mohammed bin Salman has met with the leaders of a number of pro-Israeli lobbying groups during his tour of the United States as the kingdom is moving towards normalization of diplomatic relations with the Tel Aviv regime at the expense of the Palestinian issue.
According to a leaked copy of his itinerary, the Israeli Haaretz daily reported that bin Salman had conferred with officials from the American Israel Public Affairs Committee (AIPAC), Stand Up for Israel (ADL), the Jewish Federations of North America (JFNA), Presidents' Conference, B'nai B'rith and the American Jewish Committee (AJC).
The meeting comes as AIPAC, ADL and the JFNA have long fought against the pro-Palestine movement Boycott, Divestment and Sanctions (BDS), and spared no efforts to confront the global campaign.
Additionally, the groups donated millions to the Israeli regime to advance its expansionist policies and construct more settler units on occupied Palestinian territories.
Speaking in an interview with France 24 television news network on December 13, 2017, Saudi Foreign Minister Adel al-Jubeir said the kingdom has a "roadmap" to establish full diplomatic ties with the Tel Aviv regime.
Saudi Foreign Minister Adel al-Jubeir says Riyadh has a "roadmap" to establish full diplomatic ties with Israel, amid reports of behind-the-scenes cooperation between the two sides.
In mid-November last year, a Lebanese paper published a secret document showing that the Saudis were willing to normalize relations with Israel as part of a US-led Israeli-Palestinian peace effort and unite Saudi-allied countries against Iran.
The document, published by al-Akhbar daily, was a letter from the Saudi foreign minister to bin Salman, explaining why it was in the kingdom's interest to normalize relations with Israel. The letter said a rapprochement between Saudi Arabia and Israel has risks for the kingdom due to the strength of the Palestinian cause among Muslims.
The Saudis' willingness to boost ties with Israel has offended several Arab countries, including Jordan.
As for the Palestinian refugee issue, the letter says the Saudis would be willing to help the estimated five million Palestinian refugees worldwide settle in the host countries rather than being brought back to the occupied Palestinian territories.
The Israeli military's chief-of-staff, Gadi Eizenkot, recently said the regime was ready to share intelligence with Saudi Arabia on Iran.
The Israeli energy minister discloses for the first time that Tel Aviv has had covert contacts with Saudi Arabia.
Israeli Energy Minister Yuval Steinitz has indicated that Israel has had secret contacts with Saudi Arabia and other Arab countries over their mutual concerns about Iran, an apparent first acknowledgment by a senior official about covert dealings. He made the comments in November last year but did not specify the nature of the contacts.