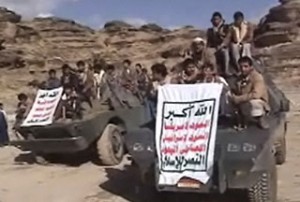 Houthi fighters say they are putting up a strong resistance against the Saudi Arabian army in northern Yemen and claim to have delivered heavy blows to the Kingdom's army.
The Saudi military's push towards Mount Mamdouh has reportedly failed, the Houthis said on Friday, adding that the clashes have destroyed a Saudi tank, dismantled a regiment, and killed several Saudi soldiers.
On Wednesday, the Houthis destroyed two Saudi tanks as they attempted to cross the border into northern Yemen.
The fighters have also released footage showing a large cache of heavy-machine guns, rockets and bullets they seized from Saudi forces.
Riyadh has been assisting the Sana'a government in the massive offensive launched against the Houthi fighters in August after alleging that the Shia fighters opened fire on a number of its border guards.
The Houthis, who took arms in 2004 to fight the central government's discrimination against Yemen's Shia minority, accuse Riyadh and Sana'a of funding al-Qaeda and Wahhabi extremists to help quell the Shia resistance.
They also accuse Saudi Arabia of pounding Yemeni villages and using deadly phosphorous bombs as well as indiscriminate targeting of civilians in there.
The UN High Commissioner for Refugees (UNHCR) estimates that since 2004 up to 175,000 people have been forced to leave their homes in Saada Province and take refuge in overcrowded UN camps.