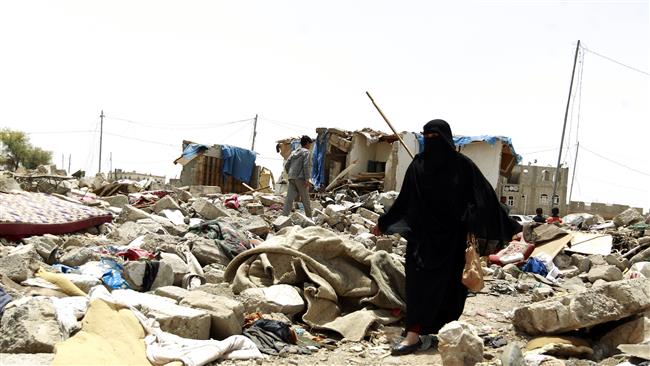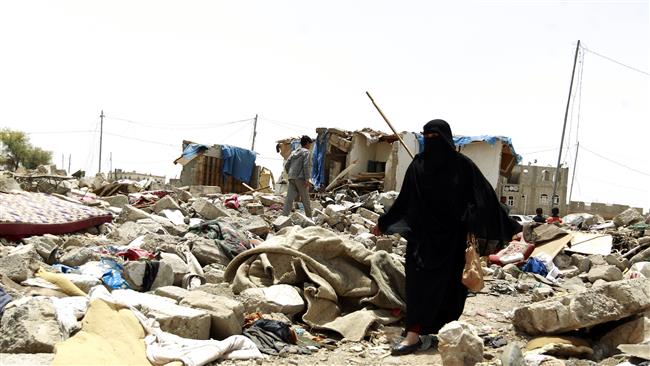 Saudi Arabia's warplanes have carried out several new airstrikes in Yemen as the impoverished country continues to reel from nearly two months of aggression by its oil-rich neighbor.
Aerial attacks were launched in the Razih Directorate of the Razih District in Yemen's northwestern Sa'ada Province on Friday, according to the Yemeni al-Masirah TV network.
Saudi jets also reportedly conducted 10 raids on two schools in the province's Maran region.
Earlier in the day, the broadcaster reported Saudi air raids against communications networks on Dhein Mountain in Amran Province, which is also situated in the country's northwest, and also said that four Saudi airstrikes had targeted north of capital Sana'a.
Riyadh launched its military aggression against Yemen on March 26 – without a UN mandate – in a bid to undermine the Houthi Ansarullah movement, which currently controls the capital, Sana'a, and other major provinces, and also to restore power to Hadi, who is a staunch ally of Riyadh.
A Yemeni woman walks amidst the rubble of houses destroyed by airstrike on a residential area last month, in the capital, Sana'a, on May 18, 2015 (AFP photo).
Since March 19, the United Nations says, over 1,800 people have been killed and 7,330 injured due to the conflict in Yemen.
In a televised speech on May 20, the leader of Yemen's Ansarullah movement, Abdul-Malik al-Houthi, said talks are the "only solution" to the conflict in his country.
He also condemned the "brutal and barbarous aggression" by Saudi Arabia against Yemen and called it a crime targeting the infrastructure of the country.
The Ansarullah movement says it is ready to attend the upcoming UN-sponsored Geneva talks on the Yemeni crisis only if the Saudi regime stops its military offensive on the impoverished Arab country.
Ansarullah cannot accept to sit down at the negotiating table given the ongoing Saudi airstrikes on the Yemeni people, said the movement's spokesman Mohamed Abdel-Salam in an interview with al-Mayadeen news channel on Thursday.