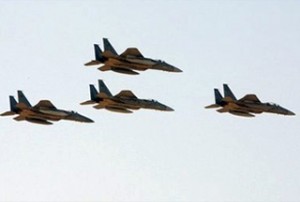 Saudi airstrikes on northern Yemeni villages on Sunday killed over a dozen civilians in the beleaguered area, Houthi fighters said.
Based on a statement released by the fighters, Yemeni women and children were among the dead. They said Saudi forces also killed several other civilians who had fled to the Fotrah area.
Fierce fighting reportedly are underway in the border regions.
The fighters also claim that they have repelled Saudi and Yemeni incursions by launching major attacks on Sa'ada, al-Malahit and Saudi border areas.
Saudi Arabia joined the Yemeni government's campaign against the Houthi fighters on November 3. The fighters accuse Riyadh of targeting civilian areas far from the Saudi-Yemeni border.
The attacks have so far killed scores of civilians and displaced thousands of others in northern Yemen.
The Yemeni government claims the fighters are seeking to revive an imamate that was toppled in 1962. The fighters, however, say they demand an end to government's social, economic and political "discrimination" against Shias as well as Saudi-backed attempts to spread Wahabism — a sect that preaches controversial and violent actions — in the northern areas.