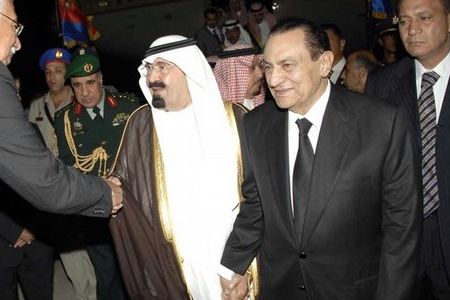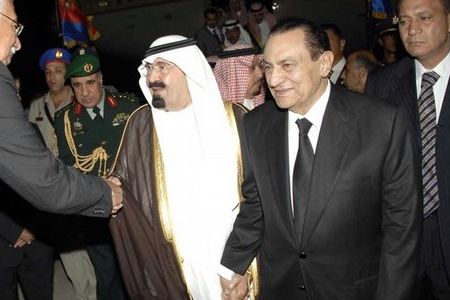 Saudi Arabia's King Abdullah visits Egypt on the first leg of a four-nation "Arab unity tour" that will focus on easing the recent tensions in Lebanon.
King Abdullah met with Egyptian President Hosni Mubarak on Wednesday in Cairo where the two leaders held talks on the Arab-Israeli peace process.
The monarch was scheduled to arrive in the Syrian capital, Damascus, on Thursday and meet President Bashar al-Assad on the second-leg of his tour that will also take him to Lebanon and Jordan.
Assad is reportedly scheduled to join the 85-year-old King Abdullah on his visit to Beirut for joint talks with Lebanese Prime Minister Saad al-Hariri.
The move will mark Assad's first visit to Lebanon since the 2005 assassination of Prime Minister Rafiq al-Hariri — the incumbent Lebanese premier's father.
Western-backed factions in Lebanon blamed the killing on Syria, which led to a serious rift in the bilateral ties between Beirut and Damascus. The two have, however, beefed up efforts to mend the strained diplomatic relations since 2008.
The Saudi king's tour comes at a time when the results of a UN tribunal's investigation into Hariri's murder — expected to be announced by the end of the year — have sparked a great deal of tensions in Lebanon.
The tense atmosphere is further soured by threats of a war against Lebanon by Israel, who has been accusing Lebanon's resistance movement, Hezbollah, of receiving weapons from Syria — a claim also echoed by Washington.
Lebanese and Syrian officials strongly rejected the allegations. Beirut likened the claims about Hezbollah's arsenal to the ones made by the US about Iraq's alleged weapons of mass destruction which paved the way to the invasion of the country in 2003.
On Thursday, Arab League foreign ministers were to meet in Cairo to decide whether the Palestinian Authority should resume direct peace talks with Israel.
The meeting comes while the United States, who is mediating the indirect "proximity talks" between the Palestinians and Israelis, is calling for a shift to direct negotiations. But the Palestinian Authority has rejected the idea, saying it cannot agree to direct talks without concessions from Israel and guarantees from the United States.