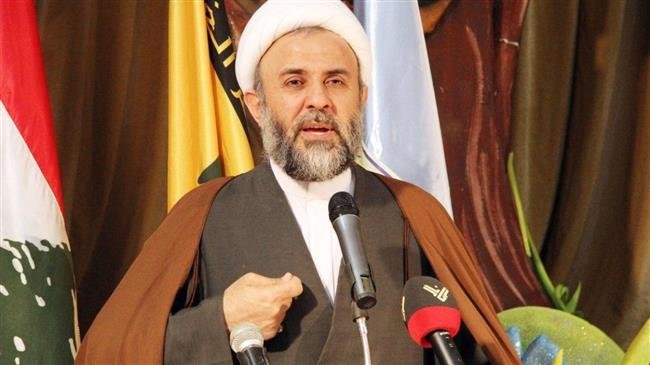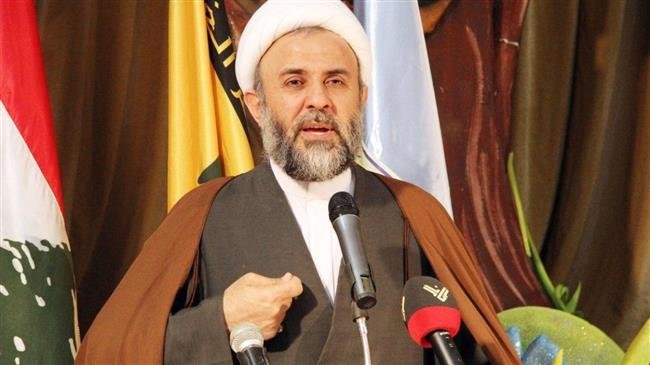 A senior official of the Lebanese Hezbollah resistance movement has strongly condemned Saudi Arabia's attempts to normalize relations with Israel, warning that such a move would encourage the Tel Aviv regime to launch military aggression against Lebanon.
"Arab-Israeli ties constitute treason against Palestine … [and] Saudi Arabia's normalization of relations with the Israeli enemy is the most treacherous, because the former is home to Islam's holiest sites," Deputy Chairman of Hezbollah's Executive Council Sheikh Nabil Qaouq said.
"This normalization represents a grave threat to Arabs' national security, and would encourage Israel to attack Lebanon again," he said, adding, "There is no place for (Lebanon's self-declared policy of) dissociation towards the Saudi normalization with Israel."
"Lebanon would suffer substantial losses in the wake of such normalization, because it would affect the country's security and its fundamental right to tap into its crude oil and gas reserves. The [Persian] Gulf states' stance [on Israel] will embolden Israel and encourage it to carry out further aggression against us," Qaouq pointed out.
Israeli PM 'secretly' meets with Moroccan FM: Report
Meanwhile, there are reports that Israeli Prime Minister Benjamin Netanyahu held a "secret meeting" with Moroccan Foreign Minister Nasser Bourita last September.
According to a report published by Israeli Channel 13 television network, the meeting took place on the sidelines of the UN General Assembly in New York, where they discussed normalization of bilateral ties.
Earlier this month, the Israeli regime re-launched a "virtual embassy" in a bid to "promote dialogue" with Persian Gulf Arab states, amid warming relations between the sides following years of clandestine contacts.
The former chief of staff of the Israeli military, Gadi Eisenkot, secretly traveled twice to the United Arab Emirates last November, where he met with the country's senior officials.
According to the president of the American Israel Public Affairs Committee (AIPAC), Mort Fridman, the Israeli commander met with Crown Prince of Abu Dhabi and Deputy Supreme Commander of the UAE Armed Forces Sheikh Mohammed bin Zayed bin Sultan Al Nahyan besides a number of high-ranking Emirati military officials, Israel's Arabic-language MAKAN 33 public television network reported.
The senior AIPAC official further noted that an agreement on the sale of Israeli military hardware to the UAE was struck during the meeting.
The Israeli side also agreed to make adequate preparations for the visit of top-brass Emirati officers to Israel.
Netanyahu visited Oman in late November 2018, where he met with Sultan Qaboos bin Said Al Said at the Bait al-Barakah Royal Palace in the coastal city of Seeb near the capital Muscat.
Israel's English-language daily newspaper The Jerusalem Post reported that the two men had discussed ways to advance the so-called Middle East peace process as well as matters of mutual interest.
Netanyahu's unpublicized visit to Oman came on the same day that Israeli Culture and Sports Minister Miri Regev traveled to the UAE to accompany Israel's judo team at the Abu Dhabi Grand Slam 2018.
Regev arrived in Abu Dhabi on October 26 last year, and participated in the opening ceremony of the international event at the Emirati capital's Zayed Sports City, the Palestinian Ma'an news agency reported.
Her visit to the UAE marked the first of its kind by an Israeli minister to a Persian Gulf littoral state.
Tel Aviv and Abu Dhabi have no diplomatic ties and the UAE does not recognize Israel, but the two sides have increased backchannel cooperation in recent years. There have been numerous reports of growing contacts between Saudi and Israeli officials too.
Among Arab countries, Israel has diplomatic relations only with Egypt and Jordan.