Iraq
Middle East
Saudi Arabia
Saudi Regime reopens consulate in Iraq, vies for more influence
Saudi Arabia has reopened its consulate in Iraq as Riyadh seeks closer ties with Baghdad amid Iran's growing relations with his neighboring Arab country following the defeat of Daesh.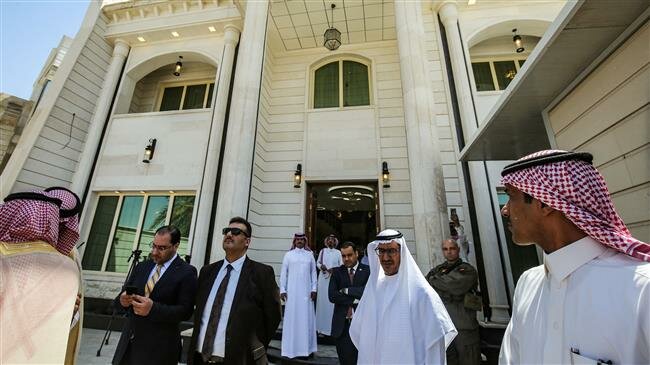 The diplomatic mission in the Iraqi capital of Baghdad was inaugurated on Thursday during a ceremony attended by senior Iraqi and Saudi officials.
Saudi Minister of Trade Majid bin Abdullah al-Qasabi was leading a business delegation to Iraq as part of efforts to enhance ties between the two nations.
Following the reopening of the consulate, he told reporters that the move marked a "new phase" in relations between Riyadh and Baghdad.
Al-Qasabi also said that the kingdom would provide Iraq with one billion dollars in loans for development projects plus $500 million to boost exports and a gift of a 100,000-seat sports stadium to be built on Baghdad's outskirts.
Saudi Arabia cut off diplomatic ties with Iraq and closed its Baghdad embassy in 1990 after then Iraqi dictator Saddam Hussein invaded Kuwait. The mission was reopened in January 2016.
'Riyadh reopens embassy in Baghdad'The Saudi Arabian diplomatic mission to Baghdad renews operation after 25 years, the kingdom's Al Arabiya TV says.
But consular services remained suspended and Iraqis applying for visas had to go through the Saudi embassy in neighboring Jordan.
The Saudi minister said three more consulates will be launched in three Iraqi cities in the near future.
During the ceremony, Iraqi Foreign Ministry spokesman Ahmad Sahhaf also said the reopening was expected to benefit both countries.
The visit by the Saudi mission came after Iranian President Hassan Rouhani visited Iraq on March 11 to boost bilateral ties between the two neighboring nations. Dozens of key cooperation and trade documents were signed during Rouhani's trip.
Iraqi Prime Minister Adel Abdul-Mahdi is scheduled to pay an official visit to Iran on Saturday. He will visit Saudi Arabia later this month.
Riyadh has viewed Iraq's proximity to Iran with enmity. This is while Iraqi leaders have repeatedly praised Iran's role in helping the Arab country confront the Takfiri menace.
The reopening of the Saudi embassy comes as Iraqi officials have frequently accused Riyadh of abetting the Daesh Takfiri terrorist group, which was largely defeated in Iraq and Syria in late 2017. Baghdad managed to defeat the terror group thanks to support from its allies, including Iran.
Back in 2016, Iraq's ambassador to the UN, Mohammad Ali al-Hakim, accused Saudi Arabia of financing the Daesh terrorist group.
He also called on the international community to take tougher actions against the countries that back terrorism in any form.