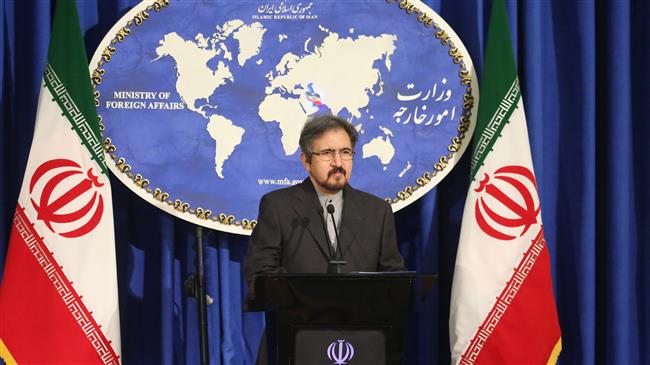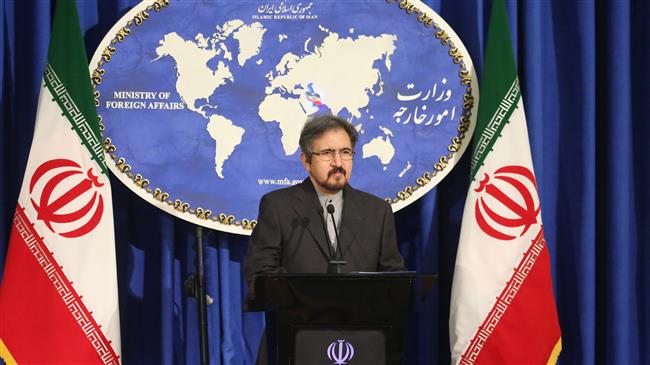 The Iranian Foreign Ministry spokesman says Saudi officials are trying to cover up their "repeated defeats" in the Yemen war by leveling baseless accusations against others.
Bahram Qassemi made the comments on Tuesday in response to remarks by Turki al-Malki, the spokesperson of the so-called Saudi-led coalition, which has been wreaking havoc in Yemen since March 2015.
Addressing reporters in a press conference on Monday, al-Maliki accused Iran of supplying Yemen's Houthi Ansarullah fighters with ballistic missiles and other weapons "to realize its own purposes."
He claimed that an Iranian-made missile with Persian writing was confiscated in Yemen, and a shipment of missiles from Iran haی been seized before they were used by Houthi fighters.
Qassemi rejected the claims and said, "Undoubtedly, these warmongering and irresponsible remarks are open to legal and international prosecution."
"By leveling baseless and imaginary accusations without evidence against others, Saudis are trying to cover up their inability and consecutive defeats they have suffered … in the war against Yemeni people despite possessing … a collection of advanced weapons and multi-billion-dollar arms purchases," the Iranian spokesperson added.
In the "unequal war" on Yemen, Saudis and their allies have been only faced with the Yemeni people's resistance and experienced a "disgraceful defeat," Qassemi said, emphasizing that Saudi Arabia was in "no position and condition" to realize its "illusions and fantasies."
Saudi rulers were expected at least to learn their lesson from the military aggression against the Yemeni people and give up their "delusion of grandiosity" and also to realize that they "cannot generate power and security by relying on arms purchases and costly and imported security," he pointed out.
On Monday, Qassemi rejected the United Kingdom's allegations about the Islamic Republic's provision of missiles to Yemeni Houthi fighters, saying Britain is liable for war crimes in the impoverished country.
"Britain is undoubtedly playing a role in and responsible for war crimes committed in Yemen by selling weapons and providing logistic and intelligence support to the aggressor countries as well as helping [impose] an inhuman blockade on the Yemenis," the Iranian Foreign Ministry spokesman said.
His remarks came a day after Yemen's Ansarullah fighters and allied army units carried out more retaliatory missile attacks against Saudi Arabia, targeting several positions in the kingdom.
Yemen's military targeted King Khalid International Airport in Riyadh and as well as Abha, Najran and Jizan Regional Airports with ballistic missiles. The Saudi air force intercepted some of the missiles over the northeastern part of the capital Riyadh late on Sunday night, Saudi state television said.
Earlier on Sunday, Iran urged the United States and "some European countries" to discontinue their support for aggressor states in Yemen, accusing them of destroying the impoverished Arab country and committing crimes against humanity.
"It would be more appropriate for the United States and some European countries to take serious steps to stop the war and incessant war crimes in Yemen instead of supporting aggressors against Yemen and supplying them with all kinds of arms and military aircraft," Iran's Foreign Ministry said in a statement to mark the beginning of the fourth year of the Yemen war.
More than 14,000 people have been killed since the onset of Saudi Arabia's military campaign against Yemen in March 2015. Much of the Arabian Peninsula country's infrastructure, including hospitals, schools and factories, has been reduced to rubble due to the war.