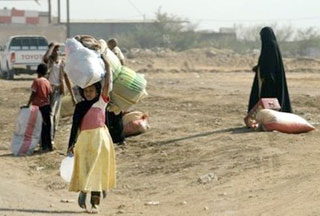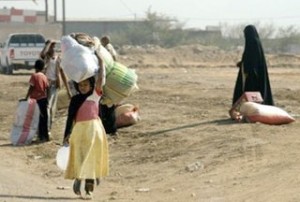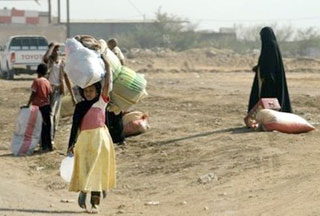 Yemen's Houthi fighters warn about the "disastrous" humanitarian conditions in the northern Sa'adah province, where they say the Saudi army is targeting civilians.
"The humanitarian situation in Sa'adah is disastrous, because Saudi Arabia is bombarding all residential areas," the Houthis' spokesman Mohammed Abdul Salam said in an interview with Iran's Arabic Alalam news network on Wednesday.
Abdul Salam drew a comparison between the Saudi attacks and the Israeli military offensive against the Gaza Strip earlier this year, which sparked pervasive condemnations for killing more than 1,400 Palestinians, mostly civilians.
He further deplored the international community's inaction toward the "blatant and savage atrocities" against the Yemeni civilians, noting that the world's silence gives the Saudi and Israeli armies the green light to go ahead with their "inhuman misconduct".
"What is going on in Yemen is a disgrace to those [international] organizations and institutions which claim to protect civilian rights as we see they care nothing for the civilian refugees."
The senior Houthi member said his people reserved the right to defend themselves against foreign invasions, warning Riyadh that its continued incursions would prompt a crushing response from the Yemenis, who he described as more united than ever before.
Abdul Salam condemned the Sana'a government as a "puppet in the hands of its Saudi masters" and responsible for "the massacre of the country's innocent women and children".
"Such a government lacks legitimacy," he stressed.
Human rights activists are concerned over reports of the Saudi army's use of forbidden weapons, including white phosphorous bombs, in civilian areas inside the Yemeni territory.
Meanwhile, the Yemeni army has reportedly targeted almost all water supplies to tighten the noose against the Shia fighters based in the north as part of the government's stepped-up offensive originally launched in August.
A lawmaker earlier complained that the Yemeni authorities prevented foreign aid shipments from reaching the displaced civilians and those affected by the conflict, but redirected them to military camps and pro-Sana'a tribal clans.
The Houthis took arms against the Sunni-dominated central government to extricate the country's Shia minority from what they called political, economic and religious marginalization.
Yemen has also been the scene of widespread protests in southern provinces where secessionists are calling for a return of the oil-rich south to the independent state it was before its unification with the north in 1990.