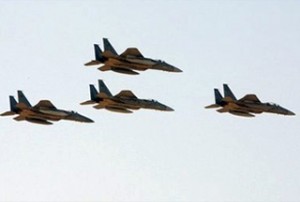 Saudi Arabia's military says it has repelled rocket attacks launched by the Houthi fighters, while capturing several Shia positions in northern Yemen.
Saudi military sources said on Sunday that the army inflicted heavy defeat on the fighters, several of whom were also captured, Arab-language Al-Baida news website reported.
The sources claimed that the Houthi fighters had planned to attack Saudi border areas, but their plan was thwarted by Saudi troops, who armed forces called in air support.
On Saturday Saudi warplanes fired some 1,011 missiles on Shia populated border areas, carrying out nearly 60 air assaults on the residential areas in the northern Al-Jabiri, Al-Dukhan and Al-Malaheet districts, according to the fighters.
Saudi Arabia, which joined Yemen's months-long offensive against the Houthis, is accused of targeting Yemeni civilians in the north.
While Riyadh insists that it is targeting Houthi positions on 'Saudi territory,' the fighters say Saudi forces continue to target Yemeni villages with unconventional weapons, inflicting civilian casualties.