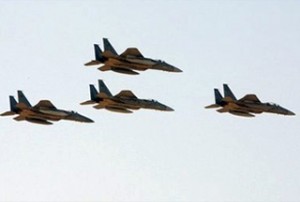 Houthi fighters say the Saudi army has conducted 18 airstrikes in the latest attacks along the border of northern Yemen.
The Houthis said late on Saturday that hundreds of Saudi rockets and mortar shells were fired into villages in Sa'ada province overnight.
On Friday, the Houthis said a number of advances by government forces had been repelled and several tanks had been destroyed.
Their leader, Abdel Malik al-Houthi, posted video footage on the group's website dismissing Yemeni government allegations of his death. The video showed al-Houthi to be in good health, contrary to reports suggesting he had been seriously injured.
The Houthis say they are fighting to defend civilians being targeted in coordinated operations by Yemen and Saudi Arabia. Both countries deny the accusation.
Yemen launched an offensive against the Houthis in Sa'ada back in August — three months before Riyadh joined in the attacks.
In early November, Saudi troops undertook their largest mobilization since the 1990-1991 Persian Gulf War and began overtly attacking the Houthi fighters from the ground and the air.
The Houthis, who until recently controlled a large swathe of mountain territory in Yemen's northwestern province of Sa'ada, have been under a sustained military assault by Yemen ground and air forces since August.
Meanwhile, Saudi Deputy Defense Minister Prince Khaled bin Sultan said on Saturday that the Saudi military had recovered the bodies of 20 of the 26 Saudi soldiers listed as missing in the fighting since November.
On January 12, he had put the death toll for Saudi troops at 82.
Earlier this week, the southern region commander, General Ali Zaid al-Khawaji, said that 113 soldiers had died and that several more had most likely been captured by the Houthis, Saudi Arabia's official news agency SPA reported.