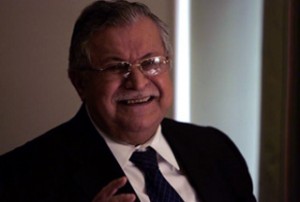 The Iraqi president says Saudi Arabia supports a unity government in Baghdad and the Kingdom does not interfere in Iraq's internal affairs.
Iraqi President Jalal Talabani, who is on an official visit to Riyadh, said on Sunday that Saudi King Abdullah had informed him that he would like to see all Iraqi politicians included in the new government.
"The aspiration of all Arabs is that all Iraqis will participate in the running of their country," said the king, according to a statement issued by Talabani's office.
"The king said that Saudi Arabia stands at the same distance from all Iraqi parties and that the kingdom supports Iraq without interfering in its internal affairs," the statement added.
The remarks sought to dismiss widespread speculation that the Kingdom supported former Iraqi Prime Minister Iyad Allawi in last month's election in Iraq.
Saudi Foreign Minister Saud al-Faisal reiterated King Abdullah's stance, saying "We support all Iraqis, and Iraq's unity, independence, and sovereignty over its territory, and we maintain the same distance from all politicians."
President Talabani is on a two-day visit to Saudi Arabia for talks with the Saudi king to discuss new developments in the efforts to establish a new government in Iraq.