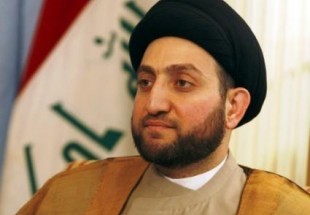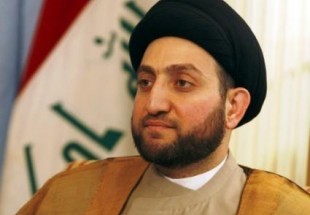 Head of the Islamic Supreme Council of Iraq Sayyed Ammar al-Hakim lauded Iran's support for his country in the ongoing fight against the ISIL terrorist group.
"Iran has helped the Iraqi government to a large extent in the fight against the terrorists groups," al-Hakim, also head of the National Iraqi Alliance (NIA), said.
The head of Iraq's ISCI reiterated that Iraq enjoys cordial, deep and strategic relations with Iran.
Sayyed Al-Hakim, meantime, urged the Iraqi groups to prepare for countering challenges they will face after uprooting the ISIL terrorist group.
In relevant remarks on Saturday, Iraqi Foreign Minister Ibrahim al-Jaafari underlined that the Baghdad government will not pay any attention to US President Donald Trump's policies adopted against the Islamic Republic of Iran.
"Baghdad will not get involved in the anti-Tehran policies adopted by Washington," al-Jaafari told reporters.
The Iraqi foreign minister made the remarks when asked about Trump's idea to form a new anti-Iran front and whether Iraq will ever participate in it.
Al-Jaafari reiterated that Iraq will not enter any country's policies against another one.
The Iraqi foreign minister underlined that many commonalities, including geography, history, social affairs and common interests have linked Iraq and Iran.
In relevant remarks in late April, Iraqi Defense Minister Irfan al-Hayali in a meeting with Iranian Ambassador to Iraq Iraj Masjedi appreciated Tehran's effective assistance to Baghdad in the fight against the ISIL terrorists.
Al-Hayali appreciated Iran's stances and support for Iraq, especially in fight against the ISIL.
According to Rasa, He said that history will never forget Iran's supports for the Iraqi people in the hard times.
Also, in the meeting, the two sides underlined expansion of defensive cooperation between the two countries.