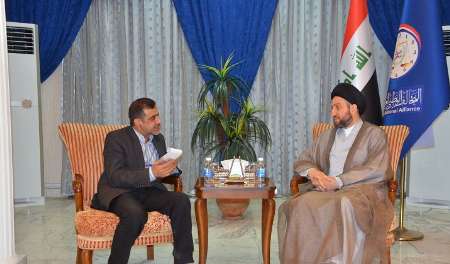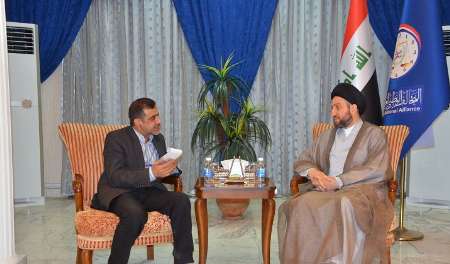 Leader of Iraq's Shia National Alliance Bloc in Parliament Sayyed Ammar al-Hakim affirmed that his country would respect Iranians' choice in the upcoming presidential election.
'Iraq would respect Iranian people's choice in the presidential election,' Hakim said in an exclusive interview with IRNA on Wednesday, adding that avoiding any intervention in other countries' internal affairs is one of principle policies of his country.
The 12th Iranian presidential election will be held simultaneously in Iran and abroad on May 19, along with local elections of Islamic Councils of Cities and villages and Parliamentary mid-term election.
He reiterated that whoever in the presidential election could obtain the votes of the brotherly people of Iran, would be respected.
The Iraqi official also expressed hope that cooperation and ties between Iran and Iraq would be promoted and the mutual relations would also be expanded in line with the capacities of the two countries.
In response to a question on the so called Arab-Islamic-American Summit which is going to be held in Saudi Arabia on May 21, he advised the regional states to step on the solidarity path and try to find solutions and understanding instead of guarding against each other, as the geographical and political facts of the region could not be ignored.
'Regional differences would result in the waste of the wealth through wars of attrition, as well as claiming the lives of innocent people,' he added, saying that the whole Islamic world would pay the price.
The Head of Supreme Council of Iraq described Iran, Iraq, Egypt, Turkey and Saudi Arabia as five pivotal countries of the region, stressing that any attempt to exclude Iran from the regional equations is a mistake.
He also suggested that it was advisable for the five countries to hold a summit in order to define a strategy in face of different issues, including the security and political ones.
'Talking in order to reach an understanding' is the only way to solve regional problems, he stressed, warning that avoiding the way would only exacerbate the situation, impose more serious chanllenges to the region and make it prone to the spread of terrorism.
In another part of the interview, he appreciated the role of Iranian military advisors in fight against terrorism and defeating Daesh (the ISIS terrorist group) in Iraq.