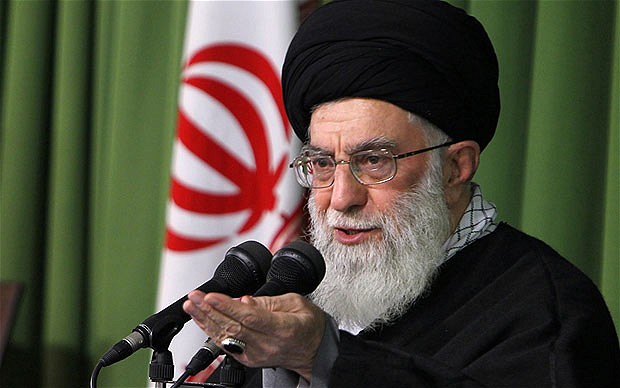 Supreme Leader of the Islamic Ummah and Oppressed Imam Sayyed Ali Khamenei said that he is not personally concerned about the US supply of nuclear technology to Saudi Arabia, implying that the rule of hereditary monarchy in Riyadh will come to an end in the future.
Addressing a huge crowd at the shrine of Imam Reza (AS) in Mashhad on Thursday, Supreme Leader cited Western support for the Saudi regime despite its devastating war on Yemen and elimination of dissidents, touching on recent reports about a multibillion-dollar US plan to build nuclear reactors in the kingdom.
"Of course, if they build them, I personally will not be upset because I know that God willing they (the facilities) will fall into the hands of Muslim Mujahedin in the not too distant future," the Leader said.
"I do not know of any regime in the region and perhaps the world as bad as the Saudi government. It is not only despotic, dictatorial, corrupt and tyrannical but also sycophantic," Leader of the Islamic Ummah and Oppressed Imam Sayyed Ali Khamenei said.
"They want to supply such a government with nuclear equipment. They have announced to build missile manufacturing centers for it. Here, they see no problem because (Saudi Arabia) depends on them and belongs to them," the Leader noted.
Saudi Arabia and its allies, including the United Arab Emirates, Morocco, and Sudan, launched a brutal war against Yemen in March 2015 in an attempt to reinstall Yemen's former president Abd Rabbuh Mansur Hadi.
The aggression initially consisted of a bombing campaign but was later coupled with a naval blockade and the deployment of ground forces to Yemen. Around 20,000 people have died since the war began, says Yemen's Health Ministry.
The Saudi-led war has also taken a heavy toll on the country's infrastructure, destroying hospitals, schools, and factories. The United Nations (UN) has said that a record 22.2 million Yemenis are in dire need of food, including 8.4 million threatened by severe hunger.
Despite Riyadh's claims that it is bombing the positions of the Ansarullah fighters, Saudi bombers are flattening residential areas and civilian infrastructures.
According to several reports, the Saudi-led air campaign against Yemen has driven the impoverished country towards humanitarian disaster, as Saudi Arabia's deadly campaign prevented the patients from travelling abroad for treatment and blocked the entry of medicine into the war-torn country.