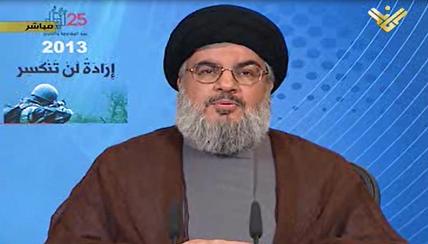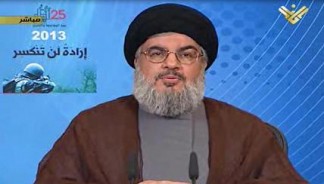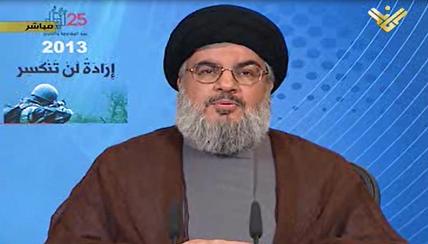 "I say to all the honorable people, to the mujahedeen, to the heroes, I have always promised you with victory and now I promise you with another one," with these words Hezbollah Secretary General Sayyed Hasan Nasrallah ended his Saturday's speech on the 13th anniversary of Resistance and Liberation Day.
Speaking from Martyr Imad Moughniyeh City in Mashgara, West of Bekaa via a huge screen, His eminence said: "the Liberation Day is one of Allah's days where His mercy and support revealed itself for our resisting people, and where His rage came out on the occupier," adding that it should be forever remembered and "must be transmitted from one generation to another because it represents a deep national experience and is a passage towards an honorable future." We should not forget the sad days of Nakba or Naksa of Palestine and compare them with that of victories. "The 1948's Nakba similar to the 1967's setback were a catastrophe to all Arabs, not to a particular nation only. All the Arabs are bearing the consequences."
His eminence talked about two huge dangers the resistance is facing: Israel and its greediness, and the turnovers in neighboring Syria where Takfiri groups are fighting on ground.
"The Zionist entity is continuing with its scheme in Palestine without even being criticized by the international community," His eminence said. "Since July 2006, Israel has been preparing for war after realizing their weaknesses and is threatening Lebanon on a daily basis and has been mobilizing its forces on the border for months. Israel has a special ministry, the Ministry of Home Front Defense, which is responsible for anything that hits its entity." Tomorrow, they will begin a maneuver, which they are calling Solid Front I, on the interior front, and they say they are ready for war, He added.
On the other side, what did the state in Lebanon do to face these threats and bear its responsibilities? What did the state do since 2005 regarding arming and training the military institution? Sayyed Nasrallah wondered. "We used to hear excuses like the Syrian presence in Lebanon, but in fact the Americans are the ones vetoing arming any Arab army if the weapons were against Israel. It's forbidden to buy arms to Syria or Lebanon because they'll fight Israel, however, huge numbers of weapons are being sold to several Arab countries because they gave guarantees not to shoot any bullet at the Zionist entity."
"Israel is arming its citizens in border villages, whereas some consider weapons found with our border villages' families as illegal!"
Hezbollah SG criticized the state as being too weak to deter any israeli threat. "Our state can't protect a funeral in Sidon, it can't stop clashes in Tripoli and hadn't yet adopted an electoral law. It's too weak to take a powerful decision in defending Lebanon and deterring any israeli aggression." But He said that if directions, political cover and armaments were granted to the army, it could fight israel similarly to the resistance, and the resistance for its part would support it and keep behind it.
"The resistance, who defeated israel in July 2006, has been training and israel fears it, however, many in Lebanon are wondering how to get rid of it."
Concerning the internal Lebanese turmoil, Sayyed Nasrallah said "we are in front of two options that are either an elections based on the 1960's law or extending the parliament's term, or a 'miracle' would lead to reaching consensus over a new law." But, he added, we are against vacuum. "We rushed to submit our candidacies before the March 14 alliance did because we reject vacuum, even if the elections were held based on the 1960's law."