Hassan Nasrallah
Syria
Sayyed Nasrallah: Terrorists Threaten Islam,Islamic Nation Must Get United to Face Takfiris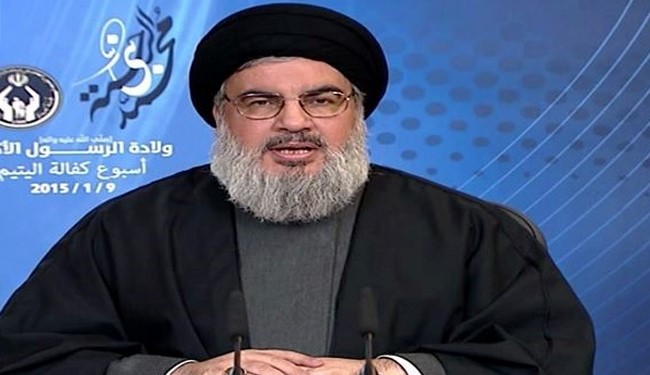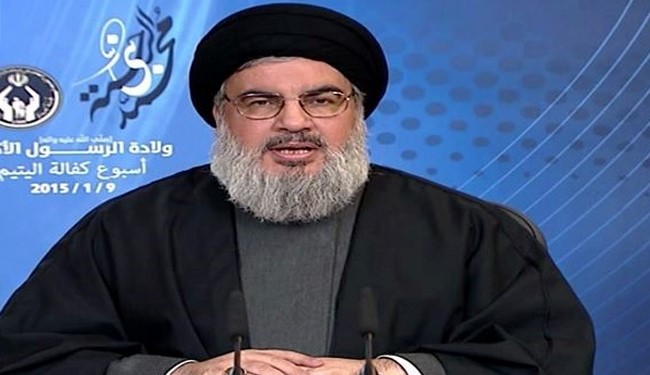 Hezbollah Secretary General Sayyed Hasan Nasrallah says terrorist groups threaten Islam, Prophet Mohammad (PBUH) and the holy Quran by committing heinous crime against humanity.
Seyyed Hassan Nasrallah stressed Friday that terrorist groups are offending the Messenger of Allah – Prophet Mohammad (pbuh) – by their shameful actions, especially when they "behead thousands of people and kill thousands of people in Yemen for commemorating the Prophet's birth anniversary."
"Today I tell you very clearly that those groups pose a threat to countries of the region for today and tomorrow. It became clear that those groups pose a threat to Islam itself as a religion and a mission, to the Messenger and to the Quran," Nasrallah added.
During a celebration ceremonies marking the auspicious anniversary of the Birth of the Holy Prophet Mohammad (PBUH) and his grandson Imam Ja'far Al-Sadeq (as) in Beirut's southern suburbs (Dahiyeh), Sayyed Nasrallah stated that the Islamic nation must get united in the face of terrorist practices – which are unparalleled in history – and in denying them any link to Islam, and also in working to isolate terrorist groups and eliminate them.
"Those offensives are supported by being easily circulated across several geographical locations, starting from Afghanistan, Syria and Iraq, to the states that facilitated visas for terrorists to travel into our country," Nasrallah further noted.
Nasrallah's remarks came after al-Qaeda-affiliated gunmen stormed the Paris headquarters of the satirical weekly, Charlie Hebdo, on Wednesday, gunning down a dozen people, including eight journalists, two police officers, a maintenance worker and a visitor.
France has been known to be among main countries supporting al-Qaeda-affiliated terrorists as well as ISIL Takfiri terrorist militants in the Middle East.
At present, ISIL terrorists control some parts of Syria and Iraq. They are engaged in crimes against humanity in the areas under their control and have terrorized and killed people of all communities, including Shias, Sunnis, Kurds, and Christians.
Nasrallah also pointed to the peaceful nature of anti-regime protests in Bahrain, noting that recent detention of Bahraini opposition leader, Sheikh Ali Salman, implies that the Bahraini officials have reached a deadlock.
"The people of Bahrain have legitimate rights. They decided to launch peaceful revolution in contrary to other movements in the world. They are shot but they didn't shoot (a bullet). They were killed on roads but they didn't kill anyone, and held no knife…. Leaders of opposition, headed by Sheikh Issa Qassem, as well as al-Wefaq group headed by Sheikh Ali Salman – have agreed upon the peaceful dialogue," the Hezbollah leader added.