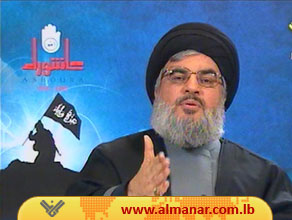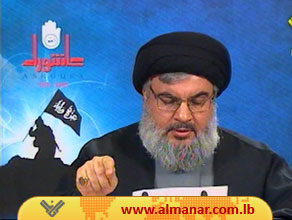 Hezbollah Secretary General Sayyed Hassan Nasrallah renewed his rejection to the UN's Special Tribunal for Lebanon as being illegal and unconstitutional asserting it is an American-Israeli tribunal aimed at undermining the resistance.
"We continue to reject any form of funding or dealing with it. If the cabinet session was held to address STL funding, we would have voted against it, and the same matter would have happened if it was addressed at the Parliament. We also refuse to pay the money from the Lebanese people pockets," Sayyed Nasrallah stressed in a speech at Sayyed Shohada'a complex in Beirut's southern suburb through a huge screen via a video link.
We choose stability despite ire
His eminence indicated that the party "firmly rejects" what Prime Minister Najib Miqati had done in terms of funding the tribunal from the Higher Relief Committee but said "we will not cause a problem. We will give priority to the higher national interest."
"I disagree with Miqati's logic on his considerations, the tribunal is unconstitutional and illegal, non-financing it does not affect a specific sect," Sayyed Nasrallah said adding that "Miqati embarrassed himself too much when he committed himself to the financing of the tribunal apart from the cabinet's desire, despite his knowledge that the majority of ministers refuses funding it." His eminence blamed Miqati because he brought matters to a head when he announced his desire to resign if the funding issue was voted down. Sayyed Nasrallah thanked the forces that "stood by the refusal to STL funding and all parliamentary blocs and ministers who joined us."
In this context, Sayyed Nasrallah said, the PM took a decision to fund the tribunal from the Higher Relief Commission budget, "I understood that this money is in form of donations from individuals and countries to the commission. I don't know whether this measure was legal or not."
False witnesses and four generals case ought to be addessed
His Eminence emphasized that "the PM, who spoke of justice and righteousness, is now before a test to be just to the oppressed, especially the four generals, through addressing false witnesses case on the cabinet agenda as two of the generals are Sunnis." "Isn't it requisite to justice, national and sectarian affiliation to resolve this issue?" he wondered. Hezbollah secretary general was addressing the case of the four generals who were illegally imprisoned for four years on suspicion of being involved in the 2005 assassination.
Sayyed Nasrallah stressed the need for this government to enter the process of production without stalling and betting on event, asserting Hezbollah's support for "all the rightful and logical Reform and Change bloc's demands." He hoped the government would continue work because the national interest remains above all other considerations.
Qatari-Turkish agreement
Hezbollah secretary general revealed more facts about the deal presented to the former opposition which stated that the STL would be let fall in return for Saad Hariri to head the government. The deal included that funding would be stopped, judges to be withdrawn and the abolition of the cooperation protocol with the tribunal. Then, a conference for foreign ministers of several countries will be held followed by a conference in Paris chaired by French President Nicolas Sarkozy with U.S. Secretary of State Hillary Clinton in presence to bless the agreement.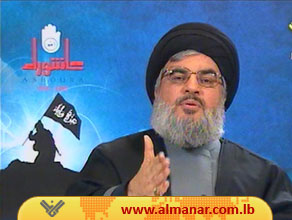 The agreement, which Sayyed Nasrallah read some of its items, implies Hariri's pledge to implement the aforementioned items which would include the signature of the three presidents. It is also required, in return, that Hariri would be renamed as PM and given the majority in the government and the protection of his security and political team. His Eminence said that means the country will be handed over to Hariri in exchange with eliminating the risk away from us, thus we reject the deal for the interest of the country.
To Al-Mustaqbal MPs: Be logical, stop sectarian incitement
Hezbollah secretary general pledged for common sense and calm as well as avoiding sectarian incitement, calling on the Al-Mustaqbal (Future) Movement to stop the ongoing media policy. He warned against the danger of sectarian incitement policy that has been adopted, saying that they sometimes "take advantage of events to level accusations aiming at causing sectarian strife," and provided Irsal town incident as an example. Hezbollah was accused of taking part in an army intelligence raid there. "Do Al-Mustaqbal MPs want for the coexisting Baalbeck-Hermel region to plunge into sectarian conflict? For who's interest? Does the national interest require so? Is it for the interest of the Lebanese position? Or the Arab spring? I hope Al-Mustaqbal responds with logic not insults."
Sayyed Nasrallah also denied their allegations about arming groups in Tripoli. "Our allies in the north are political and resistance forces that have a history. They are genuine popular forces in spite of the fierce confrontation directed against them and the hundreds of millions of dollars paid in election campaigns to defeat them. These are the most people keen on their city," his eminence said. He called on Al-Mustaqbal leadership to take lessons through an internal assessment of the size of popular participation that were not the required size in the last ceremony in Tripoli which was supposed to be central.
Concerning this party's incitement and campaign against the Islamic resistance through betting on regional developments, Sayyed Nasrallah said: "We don't fear this incitement that doesn't make a difference. They should put in mind that we faced through 28 years of resistance work the ugliest incitement campaigns which failed to harm our firm will." He advised them not to bully on anybody in the region to eradicate other forces in Lebanon.
In his review of the political discourse in the country, His eminence called on all Lebanese to agree on one rule that what is happening is a political struggle which has nothing to do with religion or beliefs, but is only linked to perceptions and political projects. "We should also agree that criticism of political leaders and even religious or political parties is not a criticism of the religion or sect itself," Sayyed Nasrallah said asserting that personal insults are prohibited in law and values. His Eminence emphasized that Hezbollah is committed to this discourse.