Lebanon
Middle East
Sayyed Safieddine: Tayouneh Martyrs' Blood Will Not Go in Vain, Coward "Lebanese Forces" Does Not Dare to Confront Hezbollah
Head of Hezbollah Executive Council Sayyed Hashem Safieddine stressed on Friday that the "Lebanese Forces" Party itself committed the massacre against the civilians and peaceful protesters in Tayouneh area on Thursday.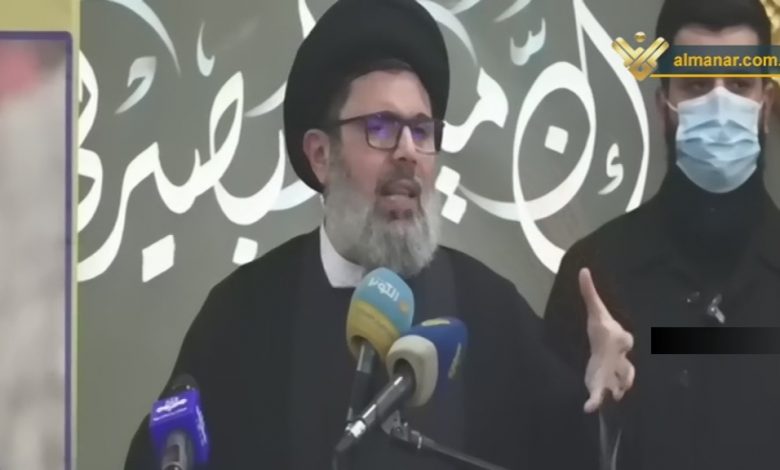 Delivering a speech during Hezbollah funeral of a number of Tayouneh martyrs in Beirut's Dahiyeh, Sayyed Safieddine indicated that the peaceful protest was a normal event held to express a certain stance against the politicization of the Beirut Port probe and that it could have ended regularly.
However, the massacre which was committed by the "Lebanese Forces" was earlier planned, Sayyed Safieddine added.
His eminence explained that Hezbollah had prior knowledge about the militia movement in Tayouneh area and coordinated the protest with the Lebanese Army, noting that the Army may not have been able to obtain the necessary data about the "Lebanese Forces" decision to attack the protesters.
"Who committed this unspeakable crime was the Lebanese Forces which would be held responsible before the martyrs' blood."
Sayyed Safieddine indicated that the coward militiamen of the "Lebanese Forces" do not dare to confront those men and women who have defeated the Israeli enemy and the Us plots in the region, so that they attacked the civilians to lead Lebanon into a civil war.
"Hezbollah Resistance will stay powerful and nothing can undermine its might.'
The "Lebanese Forces" Party has unveiled its reality because its may be ordered by its defeated regional masters to ignite the civil war in Lebanon, according to Sayyed Safieddine who added that Tayouneh crime is one of the US plots funded by some Arab states.
Sayyed Safieddine stressed that Hezbollah would not be dragged into a civil war, but that the martyrs' blood will never go in vain.
In this regard, Sayyed Safieddine indicated that Tayouneh martyrs protected the entire nation from the "Lebanese Forces" sedition, stressing that Hezbollah will pursue the case of the Tayouneh martyrs till their rights get restored.
Sayyed Safieddine called on everyone in Lebanon to express a clear attitude towards the "Lebanese Forces" plot t lead Lebanon into a civil war to serve the interests of the United States and some Arab regimes.
Lebanese Forces militia staged on Thursday a deadly ambush in Tayouneh as they open fire at peaceful demonstrators who were protesting the politicization of Beirut Port blast near Justice Palace, leaving seven martyrs and more than 30 injuries.
It is worth noting that the funeral was held in Ghobeiry town for the martyrs Mariam Farhat, Ali Ibrahim, and Hasan Al-Sayyed who were laid to rest at the Rawdat Shahidayn Cemetery. Sayyed Safieddine led the prayers at the funeral service.
In Bnahran town, Koura, Hezbollah held the funeral of the martyr Mohammad Tamer amid a heavy popular participation.