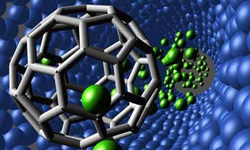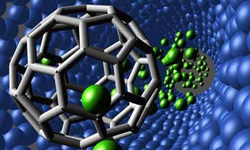 Iranian researchers discovered the effect of concentration on the linear and nonlinear thermo-optical properties of nanoparticles.
Nastaran Mansour, Physics Department lecturer of Tehran's Shahid Beheshti University, has carried out researches on the thermo-optical properties of silver nanoparticles in water environment, and studied the effect of nanoparticles concentration on linear and nonlinear optical refraction.
"The results of our researches show that by increasing the concentration of nanoparticles, the linear and nonlinear optical refractions can be increased significantly. It can be very important in photonic industry in order to produce optical restrainers," she said.
Elaborating on the procedure of the research, Mansour stated, "Silver nanoparticles were firstly produced in an aqueous environment through a laser ablation process. Then the characteristics of the nanoparticles suspended in water were determined with UV-visible spectrometer and transmission electron microscopy (TEM) devices. The linear and nonlinear thermo-optical properties of the nanoparticles were studied with a continuous laser."
"In this work, parameters such as linear absorption factor, thermal conductivity, thermo-optical and nonlinear refraction factors of silver nanoparticles were measured," she said, adding, "It was observed that the increase in nanoparticles' concentration improved the linear and nonlinear optical refraction of the nanoparticles."