Europe
Scottish independence gaining momentum: Poll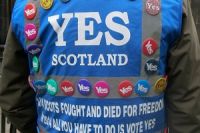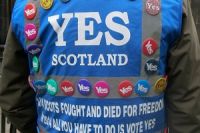 A new poll shows that support for Scottish independence is gaining momentum among voters less than three weeks before the September referendum that could lead to Scotland's breakaway from the United Kingdom.
The poll for the Scottish Daily Mail newspaper published on Friday showed support for independence has grown by four percent, rising to 47 percent from 43 percent since a similar Survation poll was released earlier this month.
According to the poll, support for the anti-independence camp has fallen to 53 from 57 percent. The results of the poll also shows No campaign's lead had been cut to 6 from 14 percentage points.
The results of the new poll comes shortly after Scottish First Minister Alex Salmond scored victory against the leader of No campaign Alistair Darling in a live TV debate ahead of next month's independence referendum.
Scotland's constitutional future will be decided on September 18 in a vote brought about by the Scottish National Party-led government in Edinburgh.
The referendum will determine whether the country should create a new sovereign state and run its own affairs or stick with the status quo.
According to reports, over four million people are eligible to vote in the upcoming referendum, and the predicted turnout is 75-80 percent, suggesting that around three million people will cast their ballots.
The independence referendum could result in Scotland's breakaway from the United Kingdom after more than 300 years of political union.
The Westminster has repeatedly warned against Scotland's independence, saying it will jeopardize UK's stability and damage its international standing.
Scottish authorities on the other hand argue that independence from the UK would free Scotland from London's austerity policies and unnecessary military spending.