Europe
Scuffles break out between police and Catalan independence supporters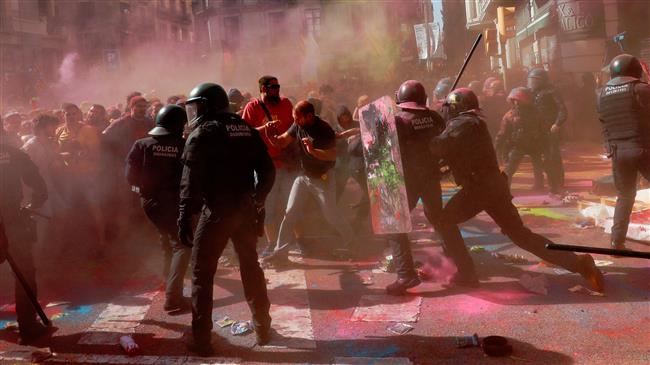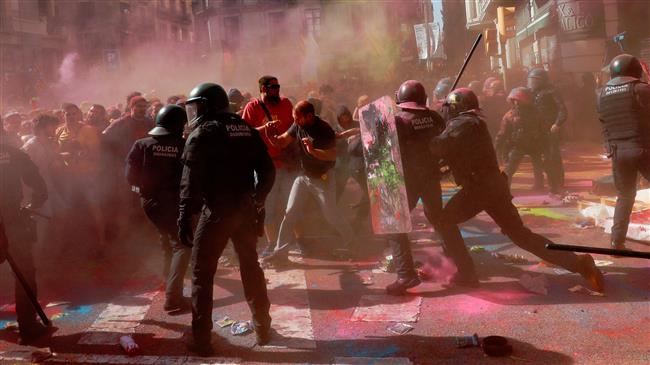 Catalan independence supporters scuffled with police on Saturday as protests marked the first anniversary of the region's independence referendum.
The protesters threw colored powder at the line of police set up to block the way leading to the Spanish police headquarters in Barcelona.
The police responded by pushing back the protesters, some of them using batons.
Saturday's protest was meant to emulate the Hindu festival of holi where colored powder and liquid are thrown.
The protesters initially wanted to hold the demonstration in front of the Catalan regional government building but they decided to move location and started aiming for the direction leading to the police headquarters.
Catalonia, a wealthy region in northern Spain, made a unilateral declaration of independence in October 2017 but the move was stopped by the Spanish authorities because it was against the country's constitution.
A year later, the organizers of the illegal referendum are in jail or in self-imposed exile, Spain has a new prime minister and the economy has stabilized.
But the situation remains tense and could flare up any time.
Spanish Prime Minister Pedro Sanchez, who ousted the conservative Mariano Rajoy in June, remains opposed to Catalonia becoming an independent state, something the Spanish constitution does not allow.
Sanchez has however adopted a softer tone and offered to hold a wide-ranging dialogue that could lead to drafting a new statute of autonomy that Catalans would have the opportunity to adopt or reject by referendum.
Catalonia's new leader, Quim Torra, earlier this month dismissed the idea that this could be a way forward and instead called on Sanchez to accept a legally-binding referendum on independence.
Because Sanchez needs Torra's party votes in the national parliament to pass the annual budget bill, a failure to find common ground in Catalonia would likely spill over to national politics in Madrid – and possibly trigger a snap national election sometimes in early 2019.
(Source: Reuters)