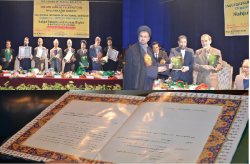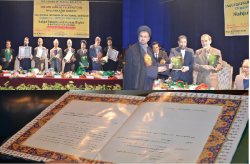 A day-long National Seminar on "Nahjul Balagha and Human Rights" was held at Kennedy Hall Auditorium of Aligarh Muslim University, Wednesday.
The seminar was organized by Depatment of Shia Theology of the university, situated at Aligarh city of Uttar Pradesh state.
Inaugurating the seminar the Chief Guest Dr. Ali Akbar Velayati, Ex-foreign minister and Advisor to the Leader of Islamic Ummah and Oppressed People Imam Ali Khamenei, said, 'Nahjul Balaghah, the greatest literary masterpiece ever contains the details of the creation of the Universe to the day to day advice given by Imam Ali (A.S.), this book is a must read book." He termed the the sacred book as "ocean of knowledge".
Speaking on the occasion Hojjatoleslam Khamoshi, President of Islamic Propagation Organization said, "Nahj-ul-Balagha on the one hand speaks about the fundamentals of Islam such as the matters concerning Allah Almighty, the human being, Islamic views of humanity, prophethood and its position in human history a means of understanding Islam. On the other hand, it refers to the social problems of a hypocritical society with which we deal today."
Dr. Karim Najafi, the Cultural Counsellor of the Islamic Republic of Iran in New Delhi, while highlighting the importance of Nahjul Balagha said that Nahj-ul-Balagha reflects the spirit of Islam and the teachings of the Quran and the Holy Prophet (PBUH) in the proper perspective, also serves as a guide for humanity to traverse the future in the light of these teachings.
Meanwhile, Professor P K Abdul Aziz, Vice Chancellor of the Aligarh Muslim University strongly recommended that it is a must read book not only for Muslims, but all those who search the meaning of life and wisdom.
Later on a copy of Nahjul Balagha was released by the eminent personalities.
The seminar was also attended by the large gathering of religious scholars and academics.
The Nahjul Balagha 'Peak of Eloquence' is the most famous collection of sermons, letters, tafsirs and narrations attributed to Hazrat Ali (A.S.), the first Imam of Shia faith and cousin and son-in-law of Holy Prophet Muhammad (PBUH).
Known for its eloquent content, it is considered a masterpiece of literature in Islam, second only to the Holy Qur'an and Prophetic narrations.