Europe
Middle East
Palestine
Senior Catalan politician says phone hacked with 'israeli' spyware
A senior pro-independence politician in Spain's Catalonia region says his mobile phone was hacked with an Israeli spyware last year.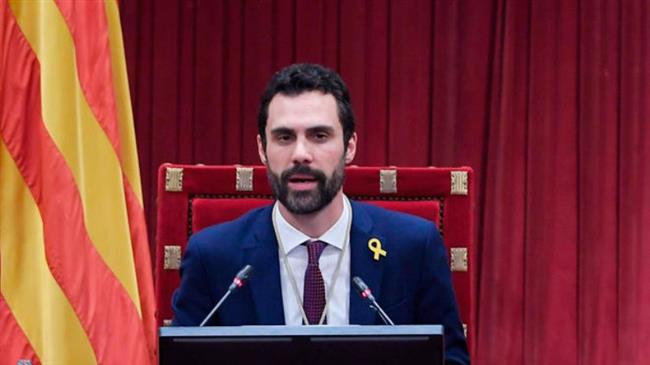 Joint reports by The Guardian and El Pais revealed on Monday that the mobile phones of Catalan regional parliament speaker Roger Torrent as well as at least two other pro-independence supporters were targeted in a "possible case of domestic political espionage" in 2019 using the Pegasus software developed by Israeli spyware firm NSO Group.
Torrent said the move confirmed long-held suspicions that Catalonia's independence movement was being spied on by the Spanish government.
"[It] corroborates and confirms the fears or ideas that we pro-independence campaigners had about the state being prepared to use all the mechanisms at its disposal to go after a legitimate political project," said Torrent.
"It seems wrong and unacceptable from a democratic point of view and with regards to the rule of law. It also seems to me to be immoral for a huge amount of public money to be spent on buying software that can be used as a tool for the persecution of political dissidence," the Catalan politician said.
Torrent was informed about the targeting by researchers working at the Canadian internet watchdog Citizen Lab.
The Catalan lawmaker has called for an investigation into the matter.
There has been no clear evidence regarding the alleged hacking, but Torrent says the fact that NSO group sells only to states suggests that the Spanish government is responsible for targeting him.
"But beyond that, I don't know," he said. "That's what needs to be cleared up: who's behind this; specifically, which state apparatus is using these tools in what I have to say is an illegal manner that contravenes the right to privacy, the right to private communications, and the right of a political movement with a legitimate and democratic political proposal to conduct itself without interference from a state that is ultimately persecuting political dissidence."
If it was pro-independence campaigners being spied on today, he said, "who knows who it's going to be tomorrow?"
In response, Spain's National Intelligence Center (CNI) said in a statement that it acted "in full accordance with the legal system, and with absolute respect for the applicable laws," adding that its work was overseen by the country's Supreme Court.
The CNI did not respond to specific questions about the alleged use of NSO Group spyware.
Meanwhile, the Spanish prime minister's office said in a statement that there had been no evidence that the Catalan politicians had been the targets of hacking via their cell phones.
"Furthermore, we must state that any operation involving a mobile phone is always conducted in accordance with the relevant judicial authorization," the statement said, however.
For years, Spain's government and successive separatist administrations in Catalonia have been fighting over an independence bid for the region.
Tensions boiled over when pro-independence leaders went ahead with a referendum on independence that Madrid had deemed illegal in 2017, followed by a declaration that the region was breaking away from Spain.
Madrid responded by seizing control of the Catalan administration and putting top Catalan politicians on trial. In October 2019, Spain's Supreme Court sentenced nine politicians and activists to up to 13 years in prison each.
Meanwhile, Amnesty International is pursuing a legal bid to revoke the export license of spyware firm NSO Group over allegations of cyber-espionage on human rights activists and others.
Amnesty says governments around the world have used cell phone-hacking software Pegasus to spy on activists, including with the messaging service WhatsApp, which is also suing the Israeli firm in a United States court.
A highly invasive tool, Pegasus is said to be able to remotely turn on a target's cell phone camera and microphone and access data on it.
The Israeli firm has been in the headlines since 2016, when experts said it was helping spy on an activist in the United Arab Emirates (UAE).
The University of Toronto's Citizen Lab, through a study, has already found a link between the NSO technology and political surveillance in Mexico, the UAE, and Saudi Arabia.
Victims of the hacking spree include diplomats, political dissidents, journalists, and top government officials.
The Israeli firm denies the allegations.