Iran
Senior Cleric Calls for Iran's Action against Jeish Al-Adl Terrorist Group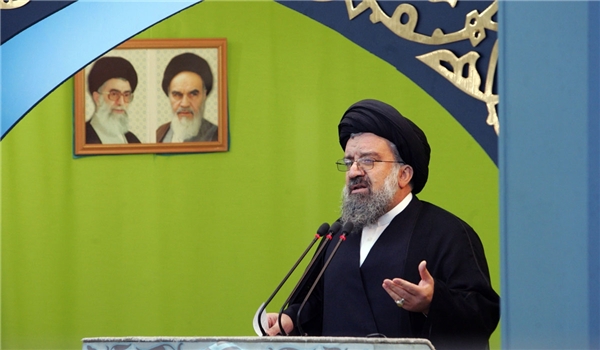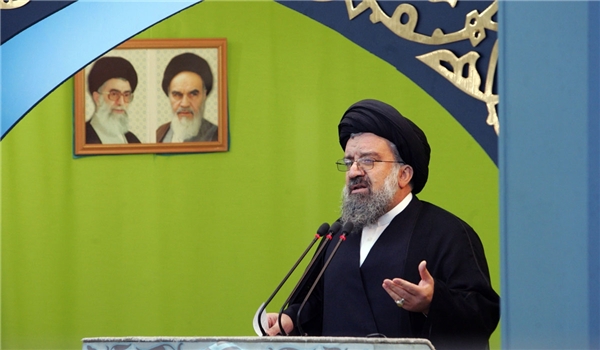 Tehran's provisional Friday Prayers Leader Ayatollah Seyed Ahmad Khatami called on the Pakistani government to take a more rigid stance against the terrorists who have abducted five Iranian border guards and killed one of them recently.
Addressing a large and fervent congregation of the people on Tehran University campus on Friday, Ayatollah Khatami said, "The Pakistani government should be accountable and at least try to save the lives of the 4 remaining Iranian border guards."
He complained about Islamabad's approach towards the terrorist groups operating against Iran, and underlined that Pakistan should not become a safe haven for terrorists.
Last Sunday, the Jeish Al-Adl terrorist group, which has claimed responsibility for the February 6 abduction of the five Iranian border guards in Jakigour region in Iran's Sistan-and-Baluchestan Province, announced that it had killed one of the hostages.
On Wednesday, Iran summoned Pakistan's ambassador to Tehran in connection with the killing of the border guard.
Also on Wednesday, Iran's Foreign Minister Mohammad Javad Zarif said the Iranian nation expects the Pakistani government to secure the release of the Iranian border guards.
On October 25, 2013, the Jeish Al-Adl terrorist group killed 14 Iranian border guards and wounded six others in the border region near the city of Saravan in Sistan and Baluchestan province.
In February 2013, Iran and Pakistan signed a security agreement under which both countries are required to cooperate in preventing and combating organized crime, fighting terrorism and countering the activities that pose a threat to the national security of either country.
Iran has repeatedly called on Pakistan to commit to the terms of the agreement.A